Are you thinking of signing up your child with Emma for online piano lessons? If so, you're in the right place! Keep reading to learn about her teaching schedule, pricing, curriculum, and other important information you'll need to know as a parent of a budding musician.
Are you a piano parent or an adult piano student looking for a good instructor? Make sure you know what to look for in a piano teacher and how to help your child learn piano.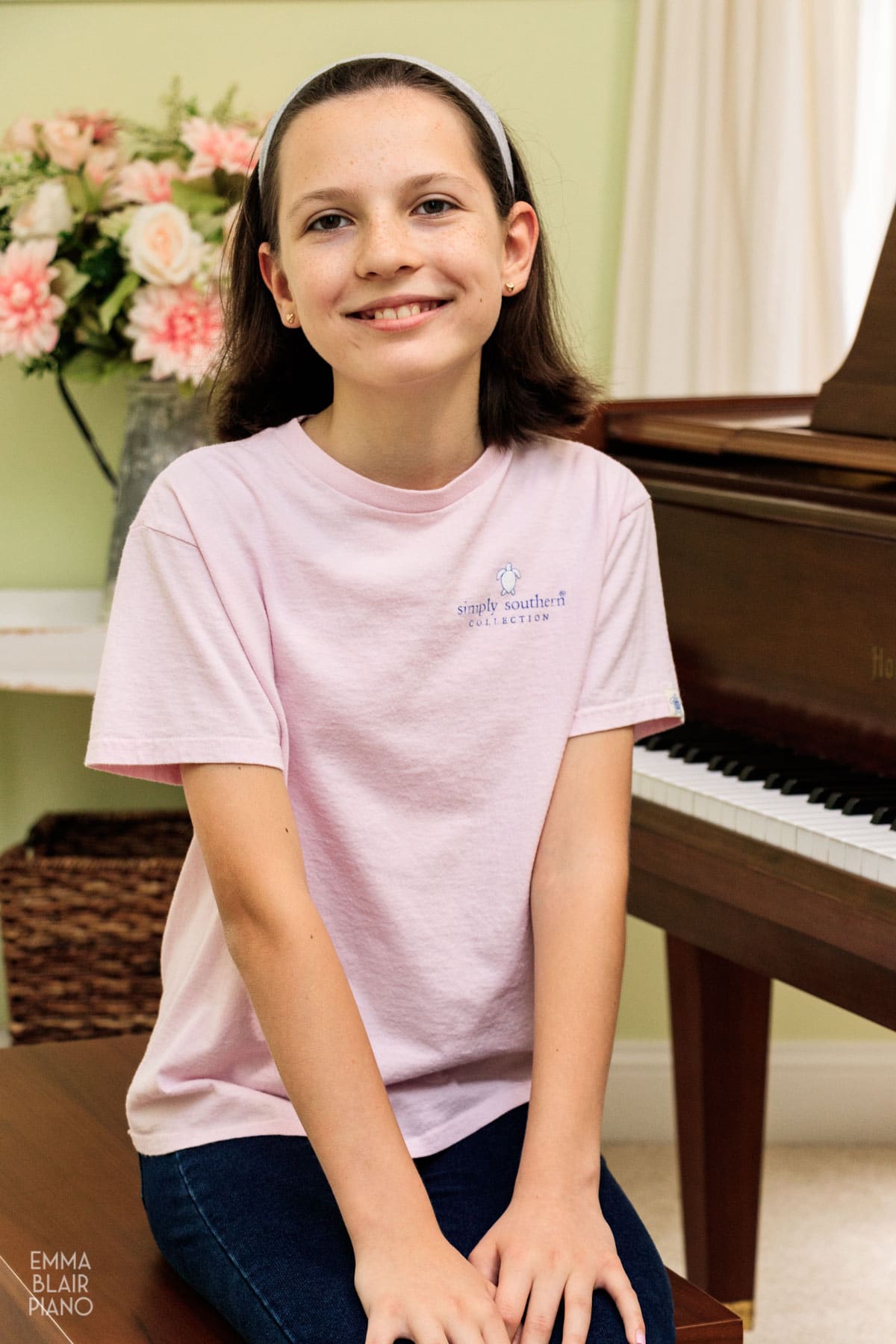 Jump to:
Why Choose Emma Blair Piano?
Emma Blair Piano is a brand-new, online-only studio that's small on purpose: it gives Emma time to pour lots of energy into each student and to help her reach her potential as a pianist.
Emma's students grow in their skills, feel more confident at the piano, and have fun with music.
Emma has been playing at the RCM Level 10 for the past 2 years, and is currently a piano student herself, so she can relate!
Emma performs piano solos at her church and on her YouTube channel.
Emma writes blog posts here on Emma Blair Piano to educate and inspire pianists around the world.
Testimonials
Curious to hear what Emma's current students and piano parents are saying? Check out these testimonials.
---
"As one of Emma's piano students, I am very pleased with the way she pushes me towards success with proven practice methods. The curriculum is a wide range of songs that are enjoyable to play, along with songs that I can choose myself. It's lots of fun! My playing has continued to improve while I have been her student."
~ From a 14-year-old student in RCM Level 7
---
"Emma pushes me, but not too hard. She has lots of nice music books, and she makes lessons fun with charts, stickers, and chocolates! I enjoy playing the piano and I like my music."
~ From a 9-year-old student in RCM Level 2
---
"Emma is an excellent teacher. She is patient, but firm, and my children are excited to play the piano!"
~ From a piano parent with two students enrolled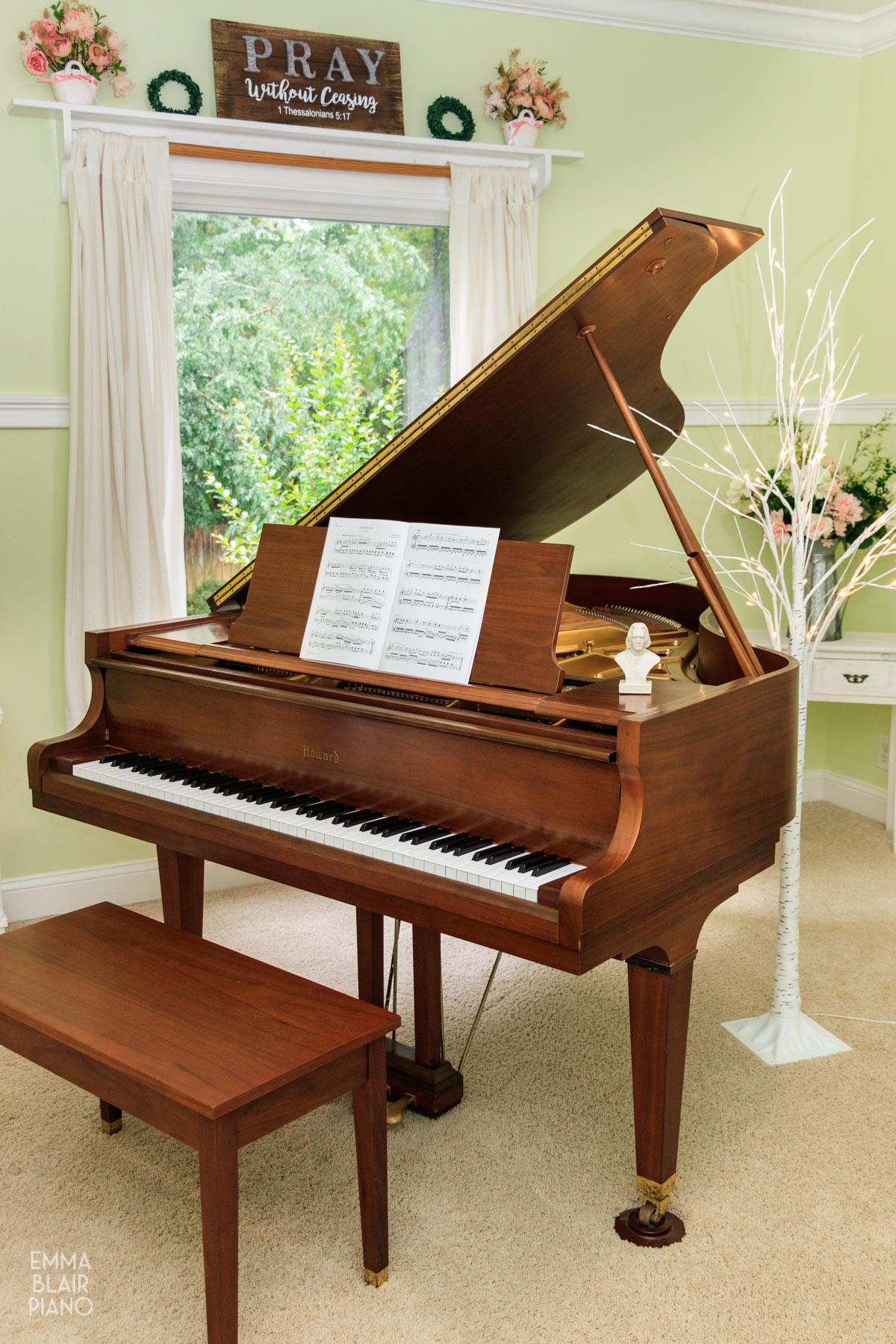 Teaching Schedule
Emma's teaching schedule corresponds with the public school schedule in her area of Southeast Georgia.
Fall Semester: September 9 to December 17 (one week vacation from November 22-26 for American Thanksgiving). This is 14 classes over 4 months.
Spring Semester: January 5-May 19 (one week vacation from April 4-8 for Spring Break). This is 19 classes over 5 months.
Summer: Emma does not teach piano during the summer (May 26 to Sept. 8) . This is a 15 week break to give both the students and herself a break.
Lesson Requirements
Lesson Times: Emma teaches from 2 pm to 6 pm EST on Wednesdays and Thursdays.
Lesson Length: Emma offers 30 minute lessons for beginners (Primer through RCM Level 1) and early and late intermediate students (RCM Levels 2 to 5), 45 minute lessons for early advanced students (RCM Levels 6 & 7), and 60 minute lessons for advanced students (RCM Level 8).
Student Requirements
Student Age: Students must be at least 9 years of age by September 8 of that school year.
Adult Students: Students must be available for lessons during Emma's piano studio hours (2 p.m. to 6 p.m. EST on Wed. & Thurs.) and have enough time to practice on a consistent basis.
Student's Ability: Students must be able to speak English fluently, and must be able to read English confidently on their own. The younger students also need to be able to sit still and focus for the duration of their lesson. Parents of 9 year olds are encouraged to sit in on the last 5 to 10 minutes of the lesson.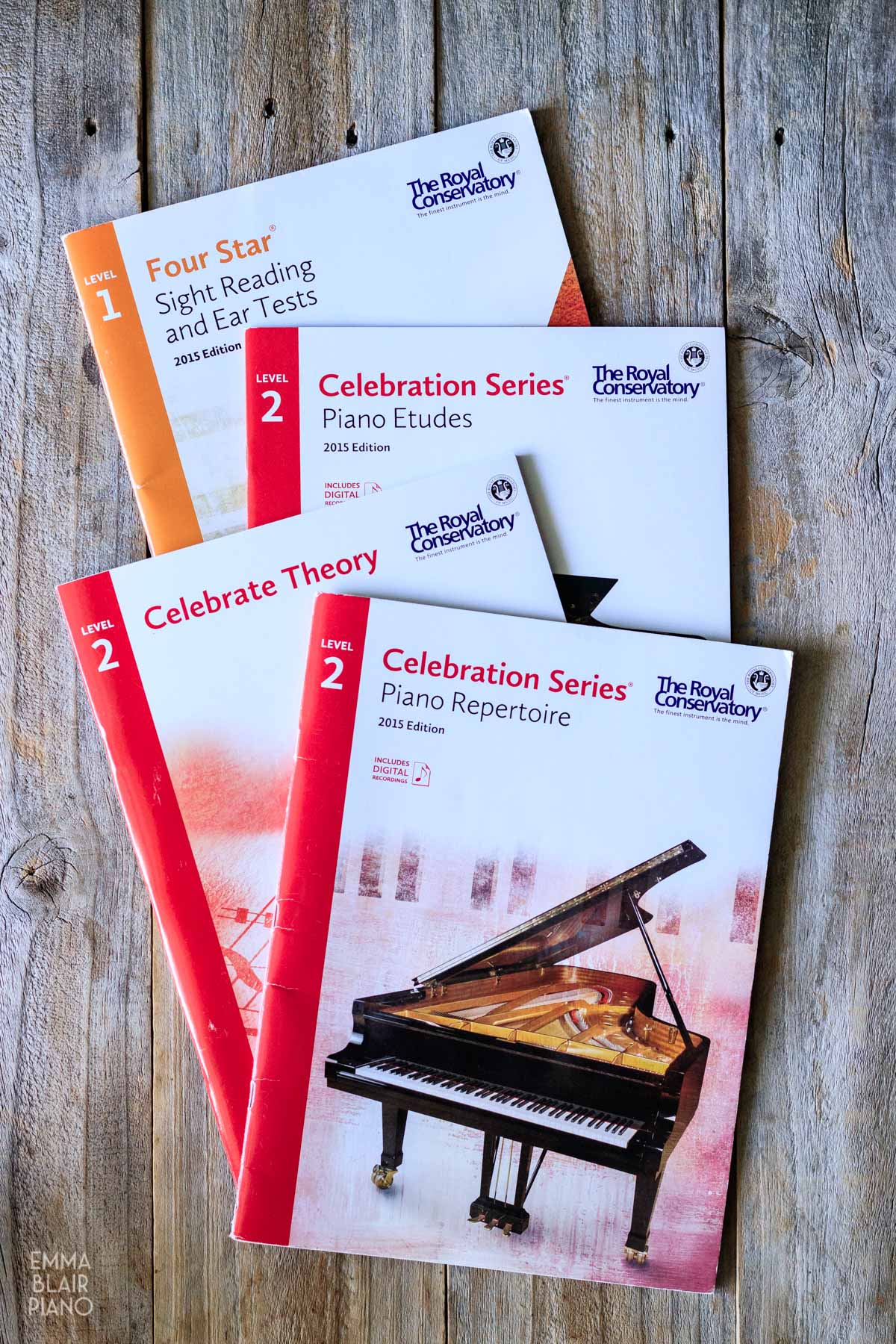 Curriculum
Students are required to purchase their own music books and sheet music before the semester starts, as the cost of the curriculum is not included in the monthly lesson fee.
Each student is required to purchase and play from the classical Royal Conservatory of Music Celebration Series piano books at their level. This includes repertoire, theory, sight reading, and ear tests, (etudes are optional). Students must also subscribe to RCM Online Ear Training for a separate small monthly fee.
I do not teach at the advanced Levels 9 and 10 in RCM. Because of the curriculum I have chosen, each student must be willing to learn how to read music.
For child beginners, I use the Faber Piano Adventures curriculum to establish a solid foundation before using RCM or Connections books. For adult beginners, I recommend the Faber Accelerated Piano Adventures books.
Required Curriculum (70% of Pieces)
Classical Music (40% of the student's pieces)
Curriculum: Royal Conservatory of Music Celebration Series, 2015 Edition
Books Needed: Celebration Series Piano Repertoire, Four Star Sight Reading & Ear Training, and Celebrate Theory books at the student's level. (Etudes are required only for students who want to do the RCM examinations.)
Where to Buy: These books are available for purchase from the RCM website, which is a Canadian company. You will have a foreign transaction fee applied to your credit card in you aren't a Canadian resident.
Price: The cost for each book and level varies, but it averages to $19+ per book, plus tax and shipping.
Why Classical? Playing classical music re-enforces many important techniques, enriches a student's understanding of music, and makes him a well-rounded pianist.
Are exams required? No, classical exams are totally optional.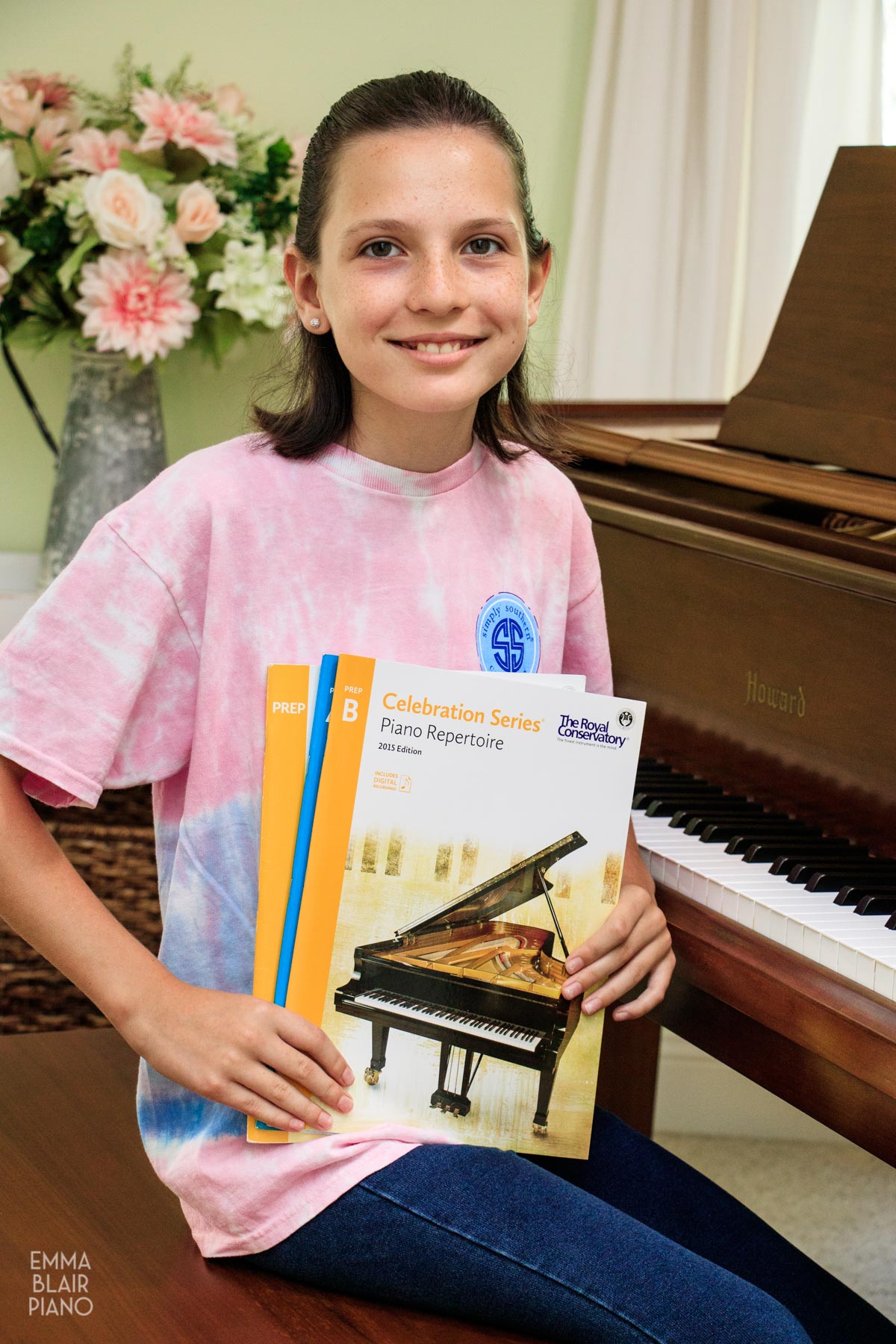 Jazz/Latin/Character (30% of the student's pieces)
Curriculum: Connections by Christopher Norton
Books Needed: The student will need the Connections book that corresponds with his RCM books (i.e. Connections 1 if he's in RCM Level 1).
Where to Buy: These books are available to purchase from Presto Music, which is a UK company. You may have a foreign transaction fee applied to your credit card.
Price: The cost for each book and level varies, but it averages to $25 per book, plus tax and shipping.
Why Connections? This curriculum complements the RCM classical curriculum, and the pieces sound amazing! The Connections curriculum is technically enriching while still being a lot of fun to play.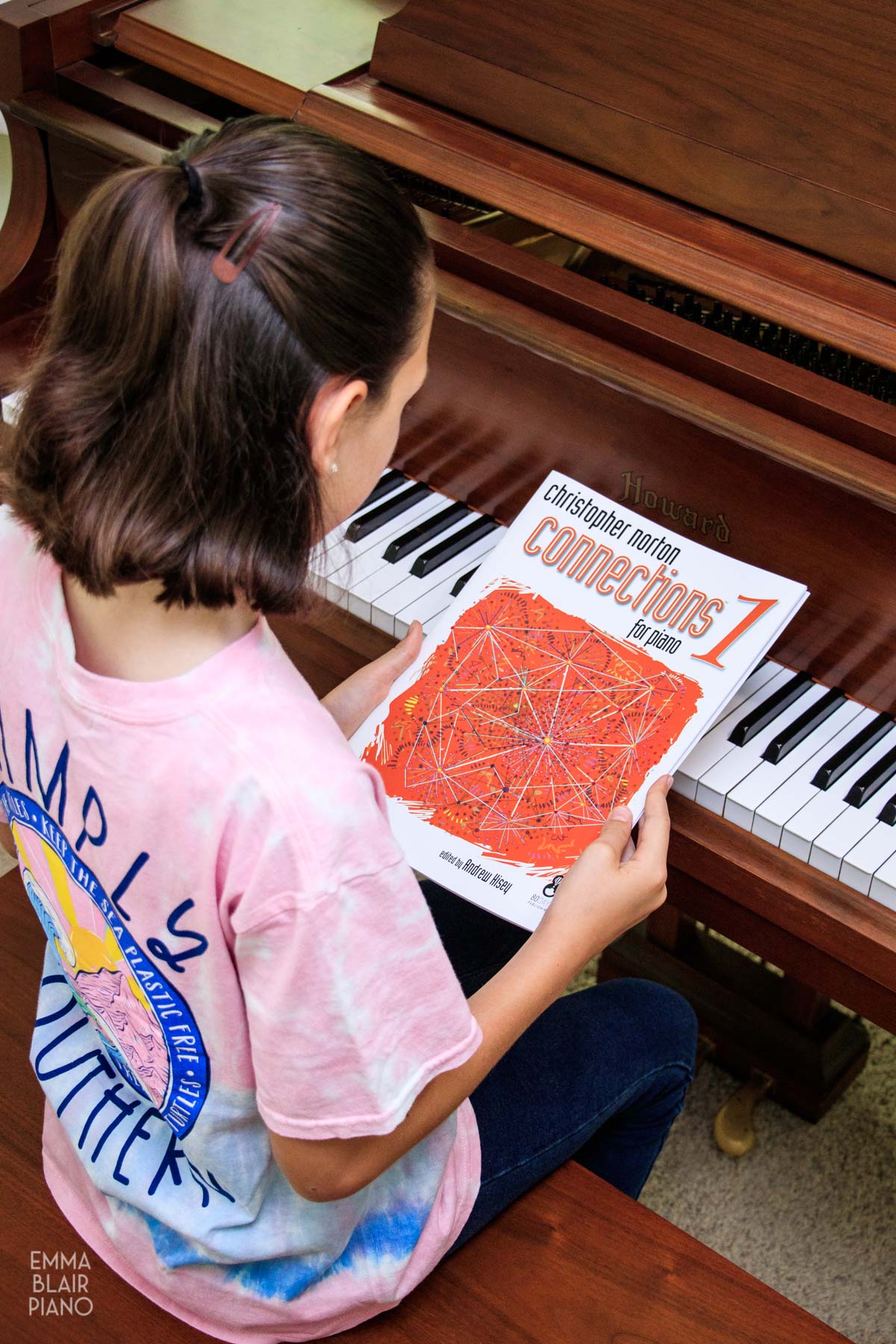 Recommended Curriculum (30% of Pieces)
The following books and sheet music is recommended for each student to purchase and play from, but is optional. Pieces in this category must be at the student's grade level or one grade below.
Faber & Faber: Students at RCM Levels 1-2 will be in the FunTime books, and students in RCM Levels 3-4 will be in the BigTime and AdvancedTime books. Students can play from Popular, Jazz and Blues, Hymns, and Christmas books in this series. They can be purchased from the Faber Piano Adventures website or Amazon, and usually cost $6.99 per book plus tax and shipping.
A La Carte Sheet Music: These supplementary pieces are for RCM Levels 5 and up. Sheet music prices will range from $3.50-$6.00 per song, depending upon the artist. Some suggested artists include Michele McLaughlin, Michael Dulin, and David Hicken.
Why other styles of music? This is when the piano student can let their musical talents shine as a well rounded musician.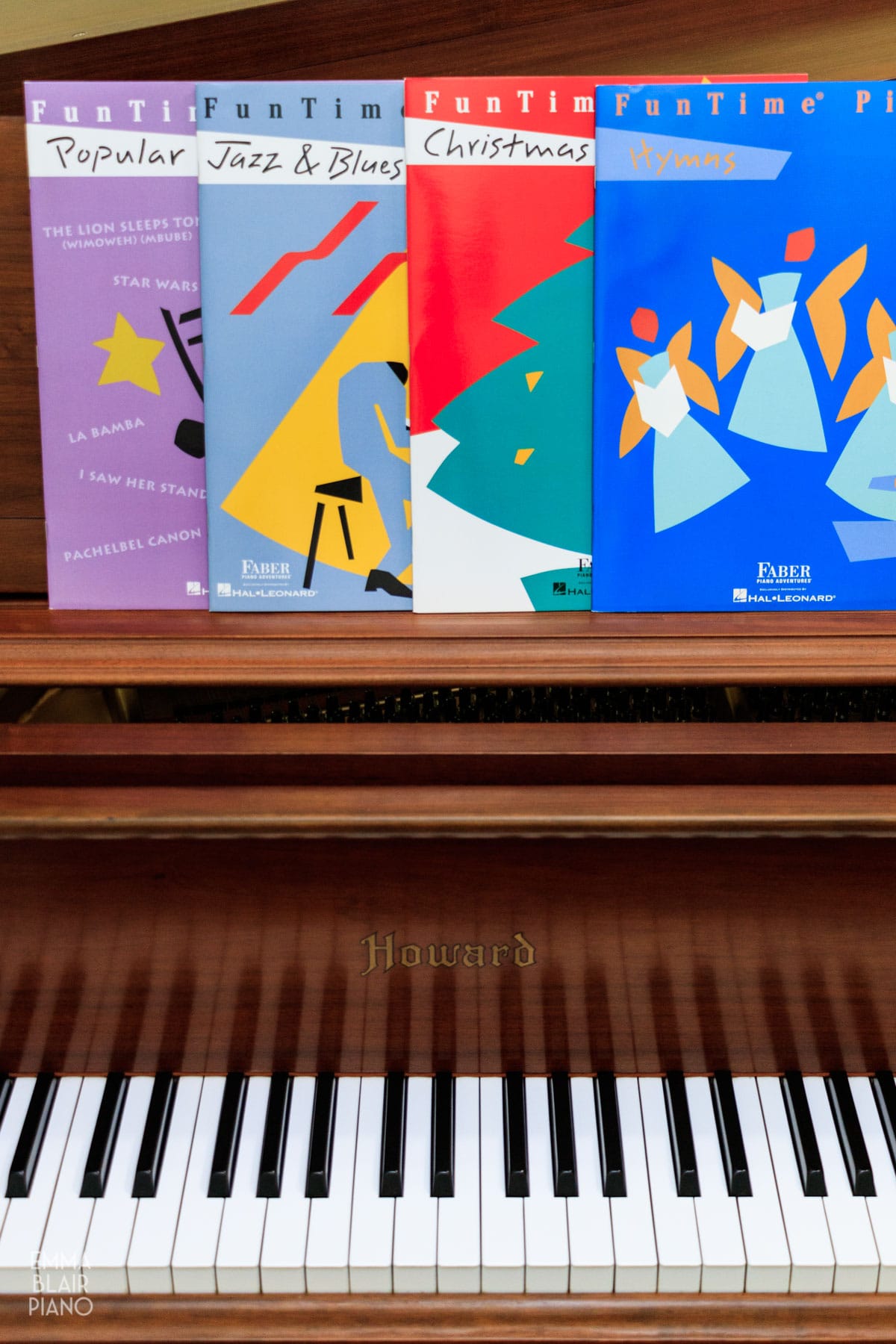 Other Optional Curriculum
Students who can play at RCM Levels 5+ and who are at least 11 years and older can choose to learn arranging, composition, and/or improvisation using the following curriculum. The following books are available for purchase from Forrest Kinney's website or from the Royal Conservatory of Music's store.
Arranging: Chord Play, a five-book series, by Forrest Kinney
Composition/Improvisation: Pattern Play, a six-book series, by Forrest Kinney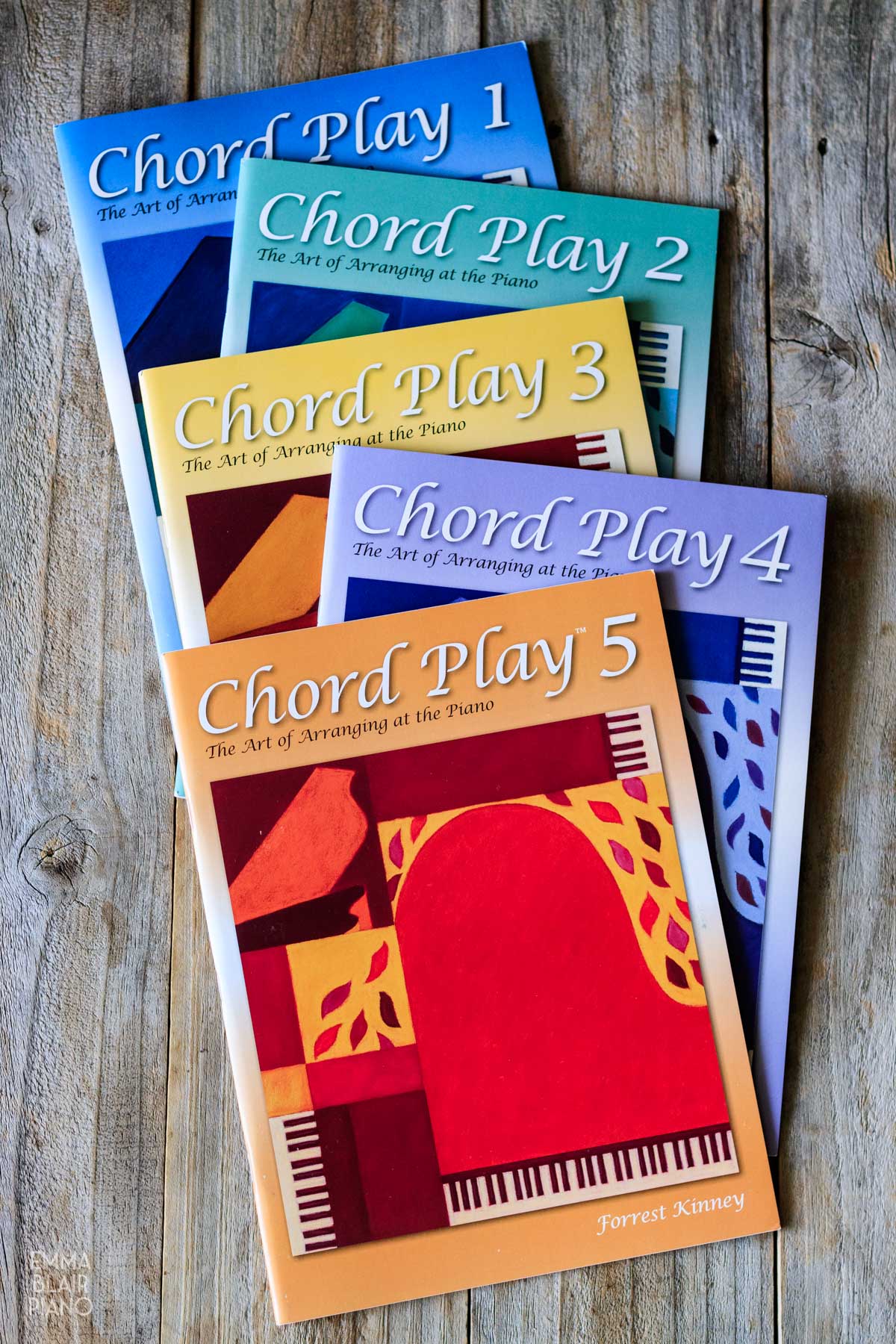 Other Requirements
Each student must have access to...
An acoustic piano in good condition that has been recently tuned OR an 88-key electric keyboard with weighted keys.
A quiet practice area.
A smartphone with tripod, laptop, or computer with a webcam and Skype installed.
A lamp or other light source to illuminate the piano area.
A three-ring binder to store practice charts and sheet music.
Access to email. Homework assignments will be emailed out weekly after the lesson.
Optional: Reward stickers for the weekly practice charts and/or candies to give the child after his lesson to reward good behavior and hard work during the week.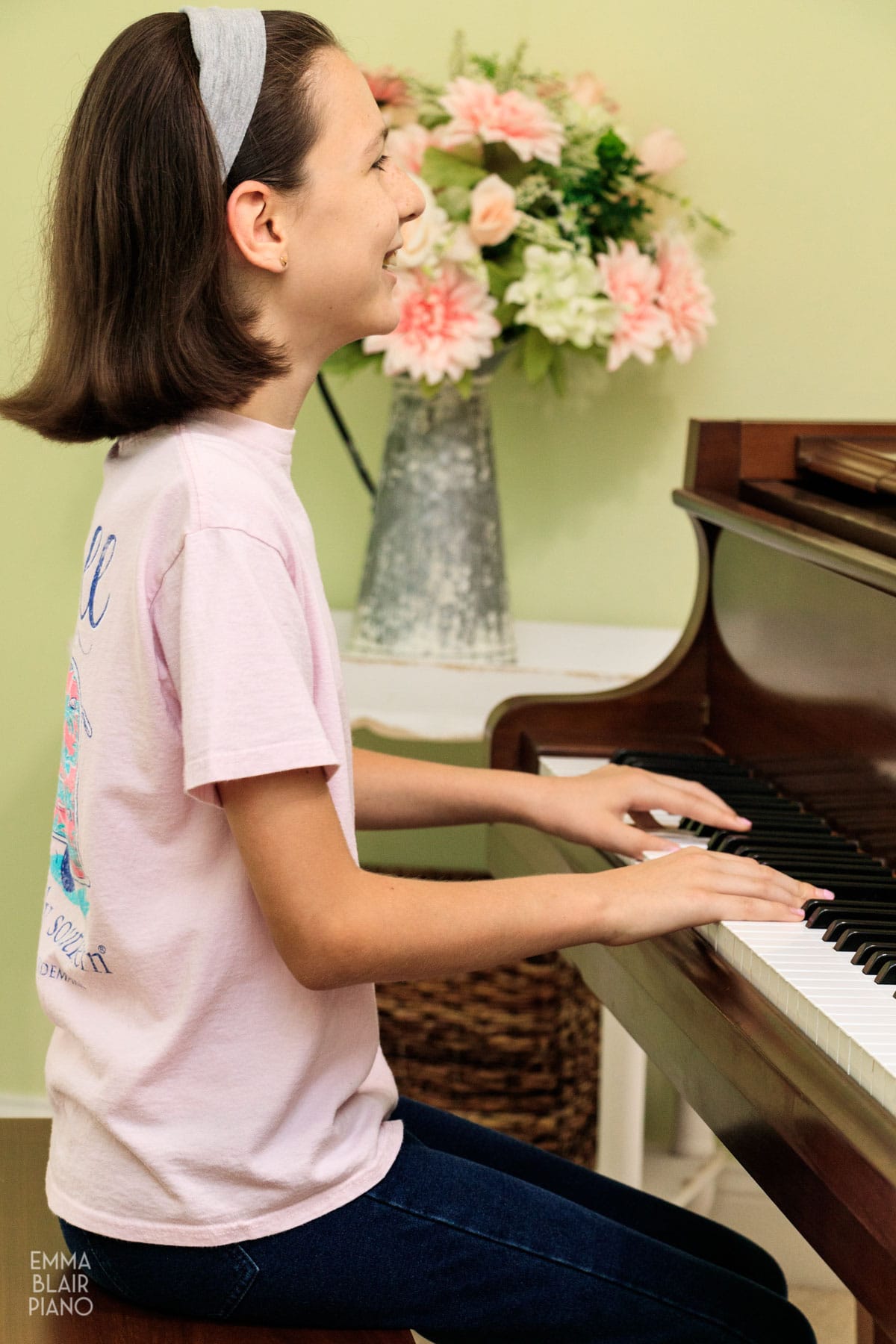 Practice
As with any instrument, it is vital that the student practice consistently at home. The amount of time required depends upon the student's skill level.
Primer & RCM Levels Prep A & B (Early Beginners): about 15-20 minutes per day, 5 days a week.
RCM Levels 1-3 (Late Beginners & Early Intermediate): at least 30 minutes per day, 5 days a week.
RCM Levels 4 & 5 (Intermediate): 45 minutes per day, 5 days a week.
RCM Levels 6 & 7 (Early Advanced): 1 hour per day, 5 days a week.
RCM Level 8 (Advanced): 1 ½ hours a day, 5 days a week.
Prices & Payment
Weekly 30-Minute Lessons: $80 USD per month ($20 per lesson)
Weekly 45-Minute Lessons: $120 USD per month ($30 per lesson)
Weekly 60-Minute Lessons: $160 USD per month ($40 per lesson)
Payment Method: Payments must be made via Paypal.
Payment Due Date: Payment for the month must be received on or before the first day of that month. It is important that payments be received on time.
Holidays and Vacations: Rates are calculated based on four-week months. If a month has five weeks, the fifth lesson is free to compensate for months when a federal holiday (i.e. Veterans Day) occurs on a lesson day.
Trial Lesson: One free 30-minute trial piano lesson is available during Emma's piano studio hours (posted above) to see if your child and Emma are a good fit for each other.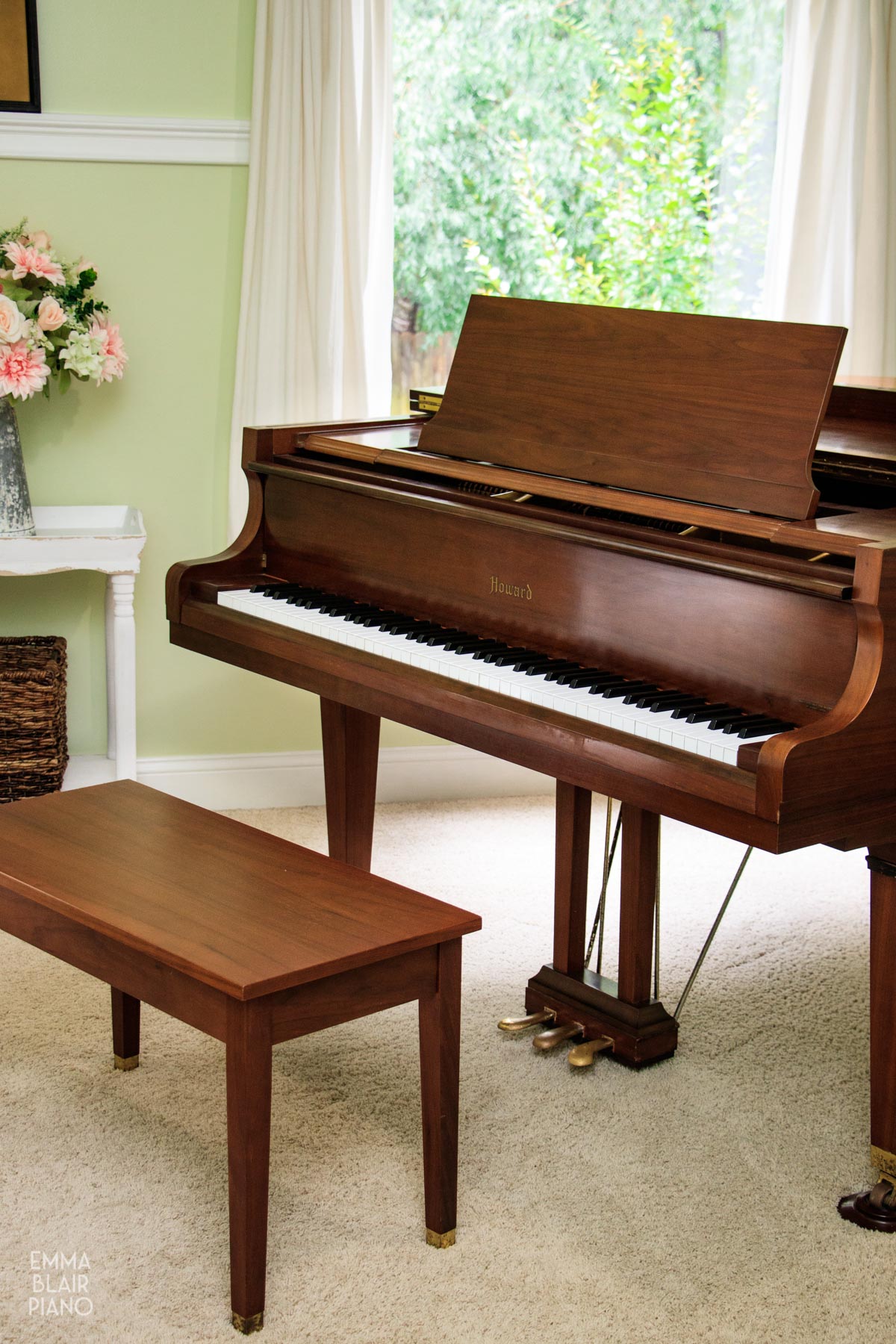 Missed Lessons
If Emma cancels a lesson due to sickness or an internet/power outage, then missed lessons will be refunded or made up on a Saturday morning of the same week. If a student misses a lesson, it will not be refunded or rescheduled unless the student cancelled because of a internet/power outage or family emergency (hospitalization, childbirth, death in the family, or natural disaster).
Discontinuation of Lessons
Each student is required to commit to one semester of lessons (14 weeks in the fall semester and 19 weeks in the spring semester) to allow for sufficient time for musical improvement at the piano. If a piano student decides to discontinue lessons at the end of the fall or spring semester, a minimum of one month's notice must be given in writing, via e-mail.
Recitals
There will be two online recitals per school year: one in December, and one in May.
Participation in recitals is required for each student. Performing is an important part of growing as a musician.
Each student is required to play two different pieces at each recital. Students are encouraged to play at least one Christmas song at the December recital.
Recitals consist of pre-recorded videos of each student performing his pieces. They will be available to view for families to view on a private playlist on the Emma Blair Piano YouTube channel.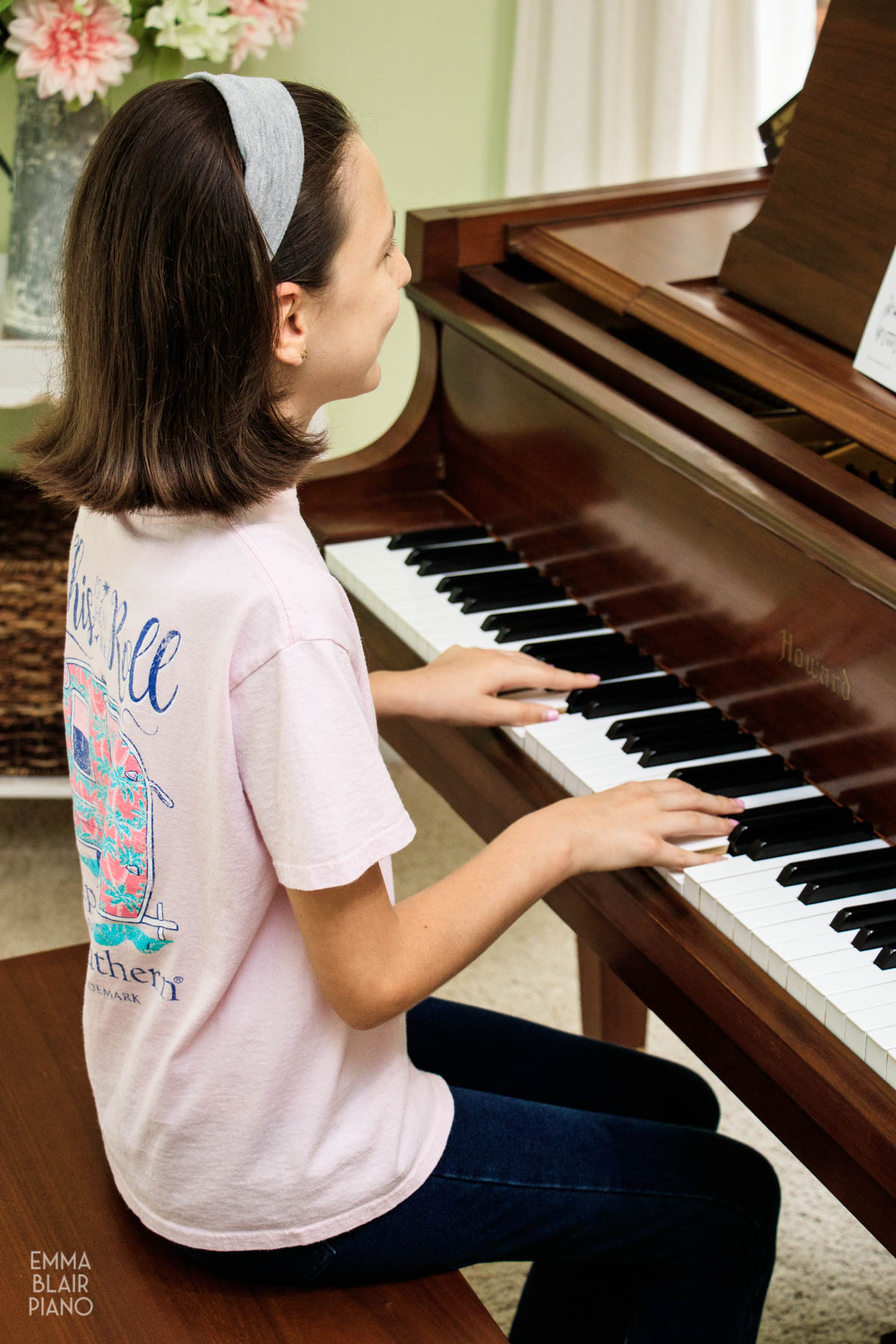 Get on the Waitlist
Get on Emma's piano lesson waitlist for the spring 2022 semester by emailing her at emma @ emmablairpiano . com. (Please remove the spaces from between the words and symbols before emailing.) She's looking forward to hearing from you.