Hi, I'm Emma Blair Fajcz! I've been playing the piano for over 13 years, and I'm passionate about learning new music and perfecting my craft. Here at Emma Blair Piano, I want to equip and inspire you to do the same!
Join over 10,000 other monthly viewers and enjoy the piano exercises and practice tips I share on my blog, YouTube channel, and social media profiles. Let's grow our piano skills together!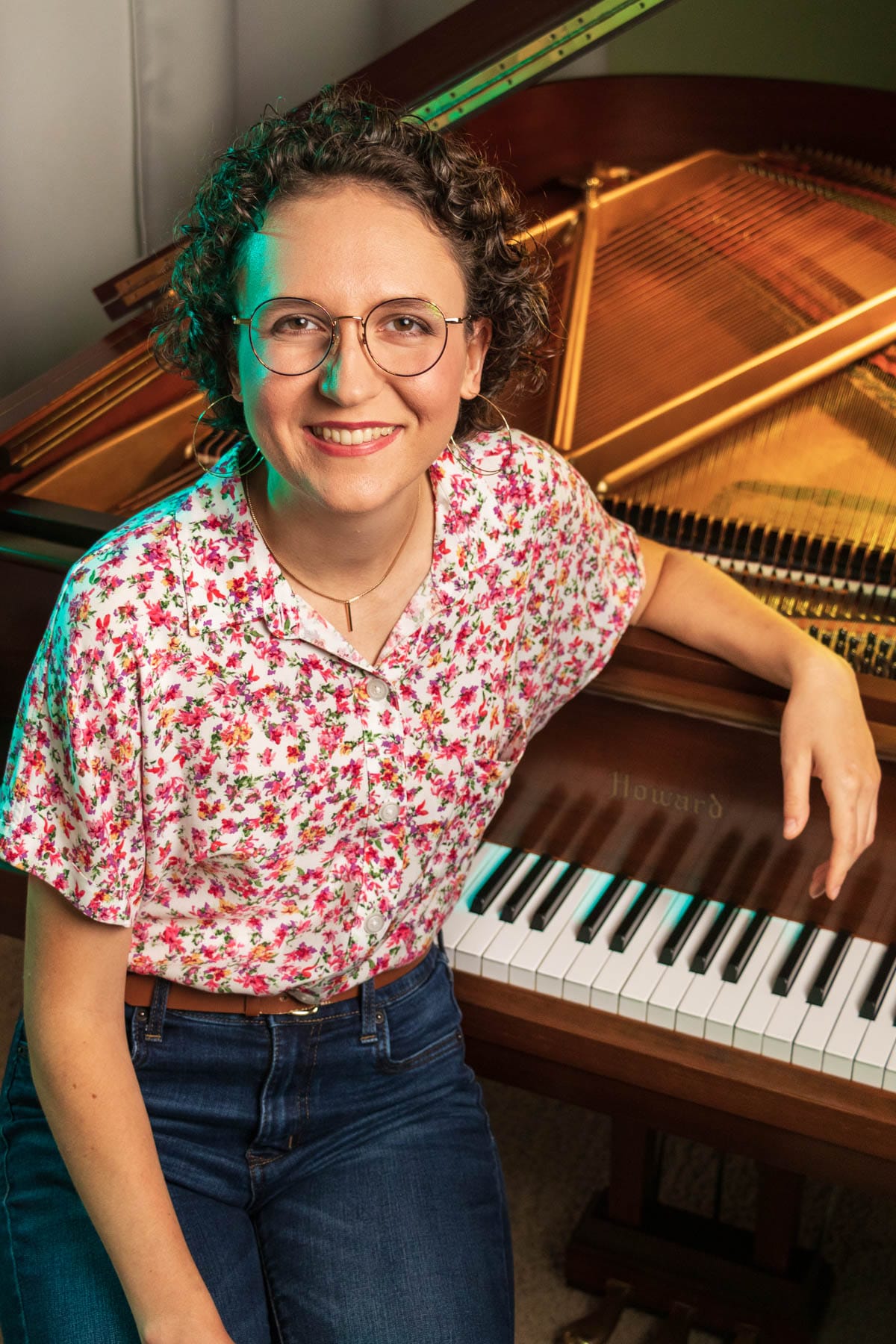 Jump to:
My Mission
My goal is to help you learn and perfect a solid piano technique while having fun! Music should never be scary or boring.
I craft detailed blog posts and YouTube videos that teach piano exercises and give you helpful tips in a simple, easy-to-understand way.
I want to inspire you to learn piano and to be motivated to do your best and never give up. You can do this!
What You'll Find on Emma Blair Piano
You'll find piano exercises, practice tips, and helpful hints to refine your piano technique and to help you be productive during your practice time.
Whether you're a total beginner or advanced pianist, you'll find something here to inspire you along your piano journey!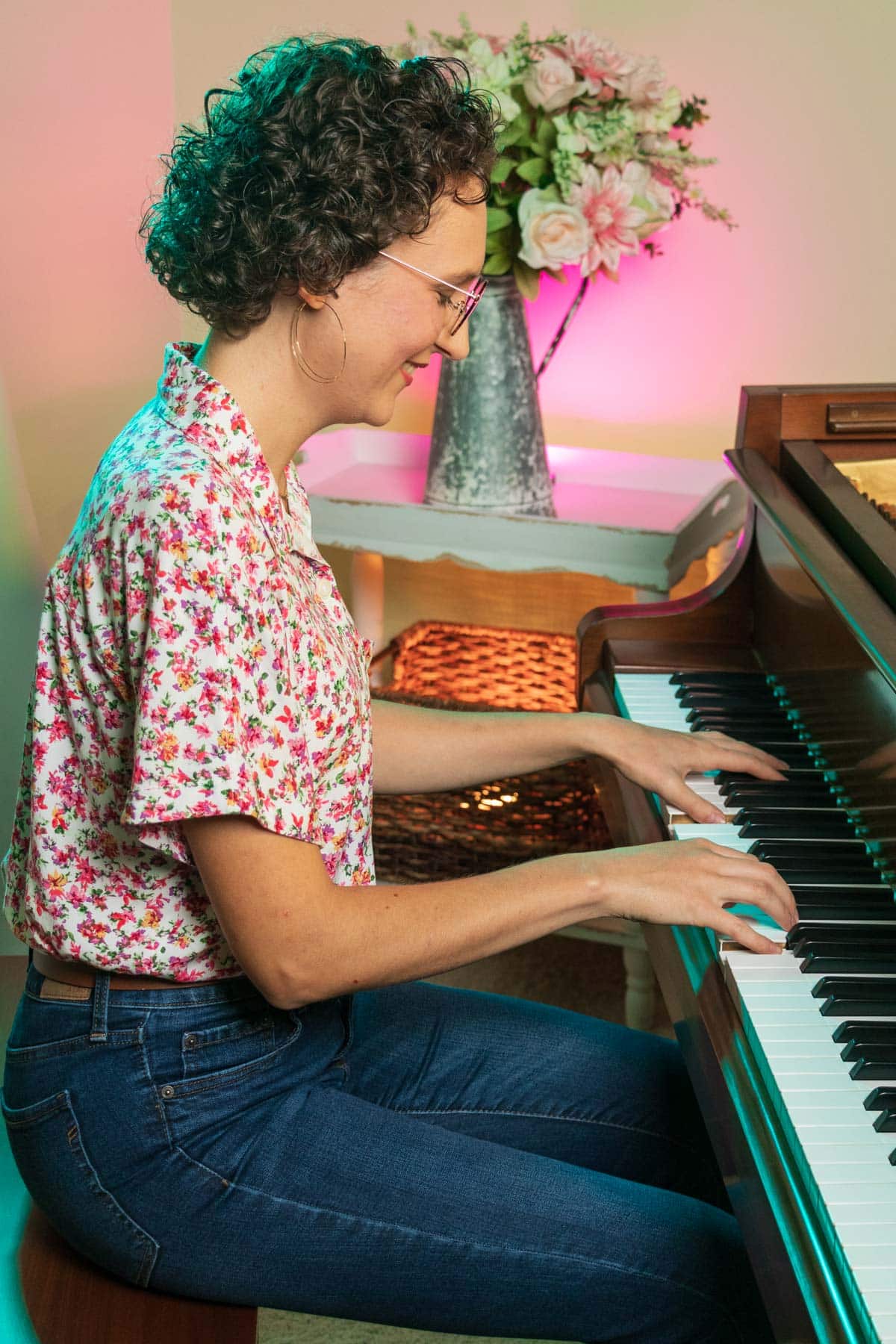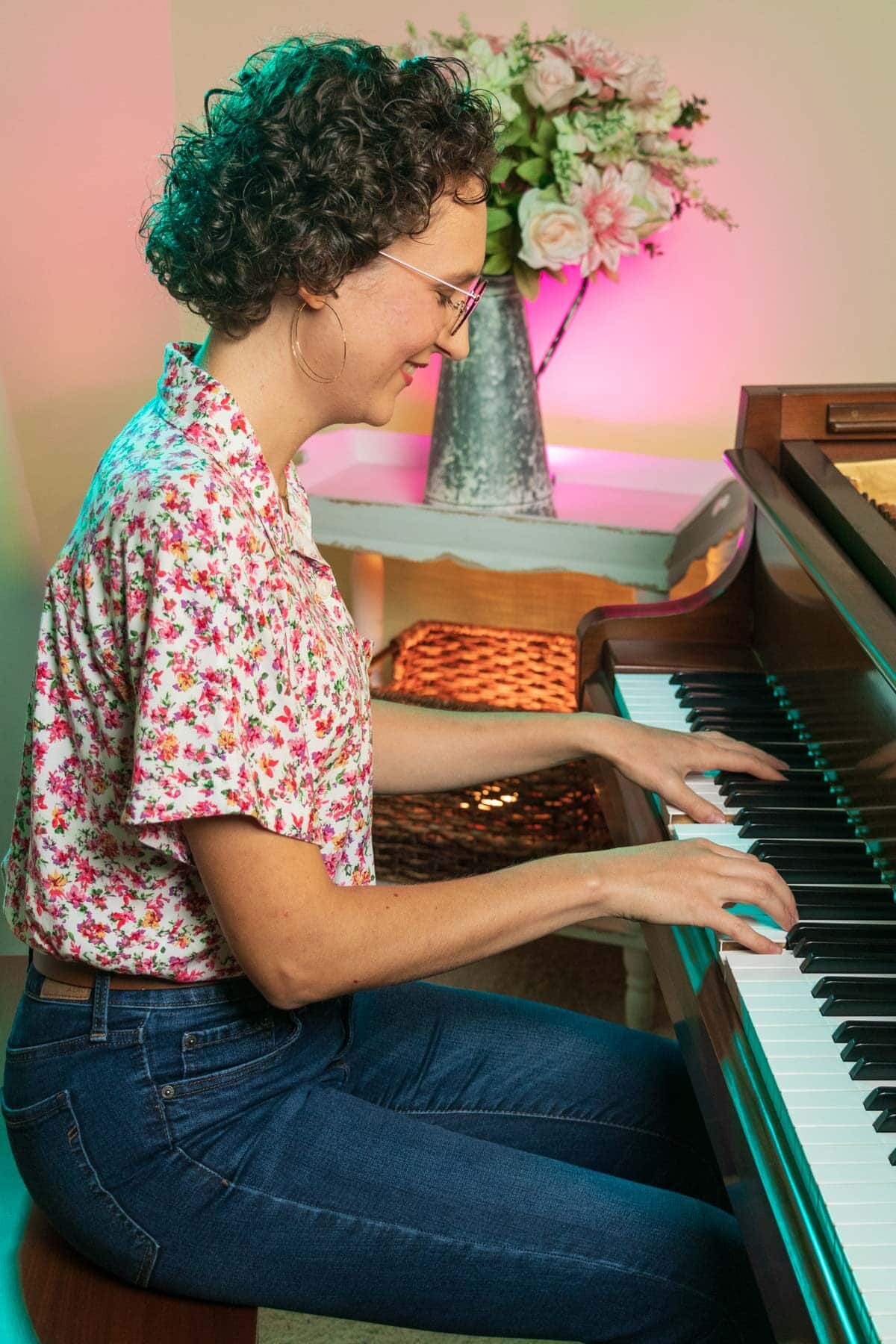 Fun Facts about Emma
I'm the food photographer, videographer, and social media manager for Savor the Flavour, a food blog that I co-run with my Mom.
I love reading, nature walks, travel, and coffee.
My favorite pianists include Beegie Adair, Vince Guaraldi, David Hicken, and Brian Simpson, and my favorite composer is J.S. Bach.
I love Jesus! Everything I am is a result of His love, and I want to glorify Him in all that I do.
FAQs
How did Emma start playing the piano?
My Mom got her Grade 8 Certificate from the Western Conservatory of Music in London, Ontario and wanted to pass along her love of music to me. She started teaching me piano around the age of six, but I wasn't excited about these early lessons, and I certainly didn't enjoy practicing!

By the time I was in high school, I stopped piano completely, and switched my focus to dance. Ten years of ballet, tap, jazz, and pointe gave me a sense of musicality and rhythm that I'm grateful for today.

Years later, my younger sister Beth wanted to quit piano lessons. I didn't want her to stop, so I started taking lessons so we could do it together. I was surprised to find that practicing wasn't so boring after all, and I've never looked back!
How long has Emma been playing the piano?
I started playing the piano at the age of six, but quit in high school to take dance instead. Altogether, I've been playing the piano for over 13 years.
What types of music does Emma play?
I enjoy playing classical music, especially the works of J.S. Bach. Since jazz is my favorite style of music to listen to, I also enjoy playing Joplin rags and Christopher Norton's upbeat Latin-inspired pieces. My favorite living composer to play from is David Hicken, since he writes engaging and Baroque-inspired compositions.
What gear do you use for shooting photos and videos?
To shoot photos, I use a Canon 77D and the EF-S 18-135mm f/3.5-5.6 lens.

For video, I use the iPhone 11 and iPhone 13 Pro Max.

My mic setup is the Earthworks Icon Pro connected to the Steinberg UR-RT4 audio interface with the Rupert Neve transformers active.

My favorite tripods are the Overhead Pro tripod for photos, and the Magnus VT-4000 for video. The Impact C-stand with the sliding leg paired with the Oben BE-177 ball head is fantastic for overhead shots!

My lighting gear is the Aputure Light Storm CS 120D II light (now discontinued) with the 35" light dome attached for a key light. I also use two GVM 800D light panels for hair and fill lights. For accent lights, I use three rechargeable Weeylite RB08P Mini Portable RGB lights.

I use Adobe Audition for sound recording and editing, and Adobe Premiere Pro for video editing.

What Others Are Saying about Emma's Piano Playing
My real passion is playing the piano. I love sitting at the keys, working on new pieces, and perfecting them! I publish piano performance videos on my second YouTube channel, Emma Blair Piano, and I've been honored to have several fantastic pianists and composers give me amazing feedback on my playing.
In December 2021, I was honored to be the runner-up in David Hicken's Chiang Mai Rhapsody piano contest. This was my first ever piano contest!
"Excellent work Emma, well done!"

(David Hicken, on "Captain Sharpe's Mission")
"Nice performance Emma!"

(Christopher Norton, on "Latin Lament")
"A beautiful performance Emma - well done!"

(David Hicken, on "Ellette")
Congratulations to Emma and Beth on a great performance and video! I'm delighted that you chose to perform this particular piece which is definitely one of my favorites.

(David Hicken, on "Gemini")
My performance of "Captain Sharpe's Mission" has also been featured on the BachScholar YouTube channel. Cory Hall, the man behind the BachScholar channel, has been my piano teacher for a couple of years.
A Family Business
Although I'm always the one writing the blog posts and videos, you'll sometimes see my two younger sisters, Beth and Alex, appear in some blog photos and videos. They're both piano students of mine, and I'm grateful for their input and assistance in my posts and videos!
Also, my mom, who was my first piano teacher, helps a lot with proofreading and shooting thumbnails. We are all passionate about music and are happy to work together to help you learn piano!
Reader Favorite Posts
Connect with Emma on Social Media