Have your hands and forearms been feeling tense at the piano? If you're experiencing this frustration, it means you need to fix your hand posture.  These 10 tips for correct piano hand posture will fix your hand position issues for good!
If you're new to piano, you'll also want to check out these great resources for correct piano posture and beginner piano tips.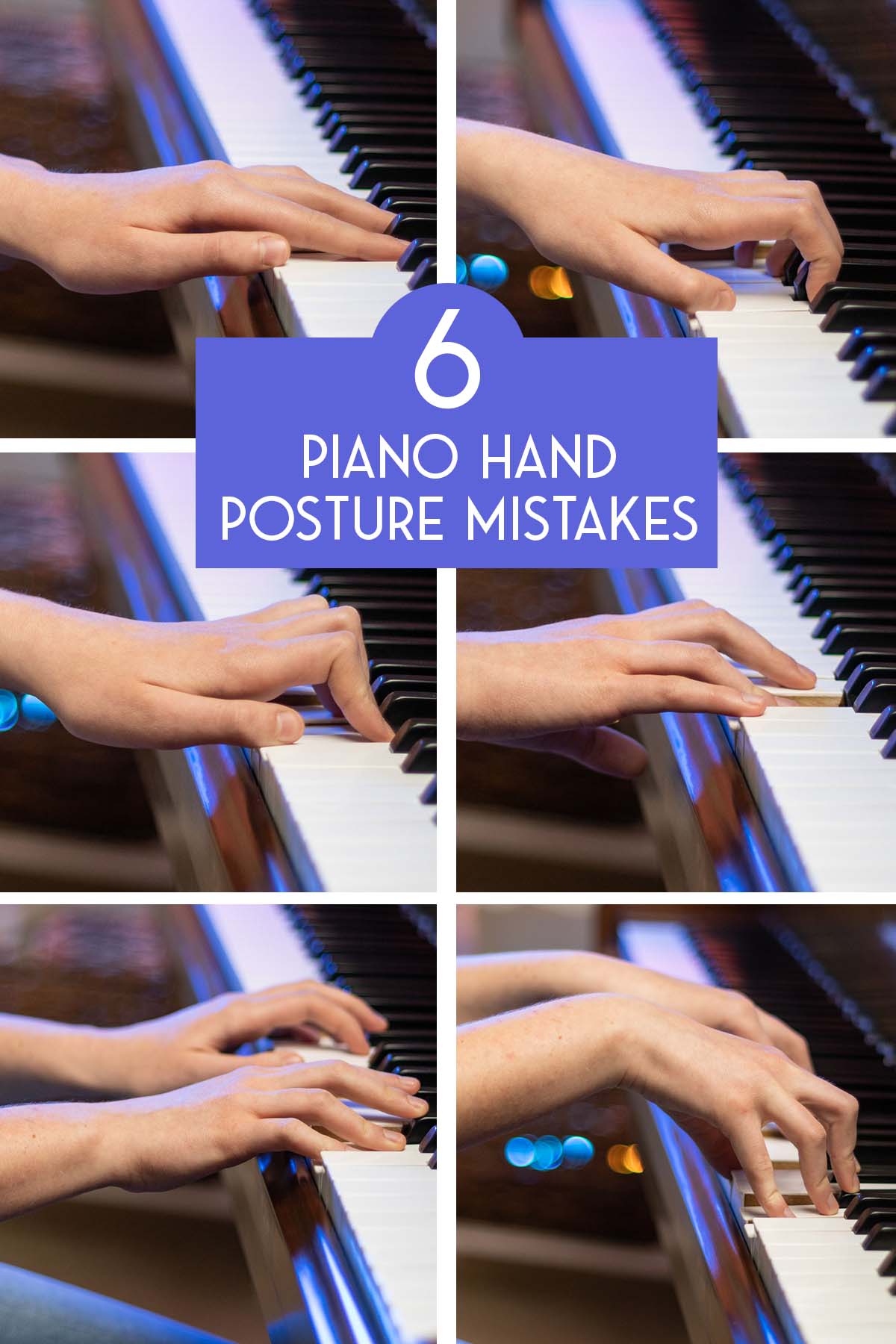 Jump to:
What to Watch For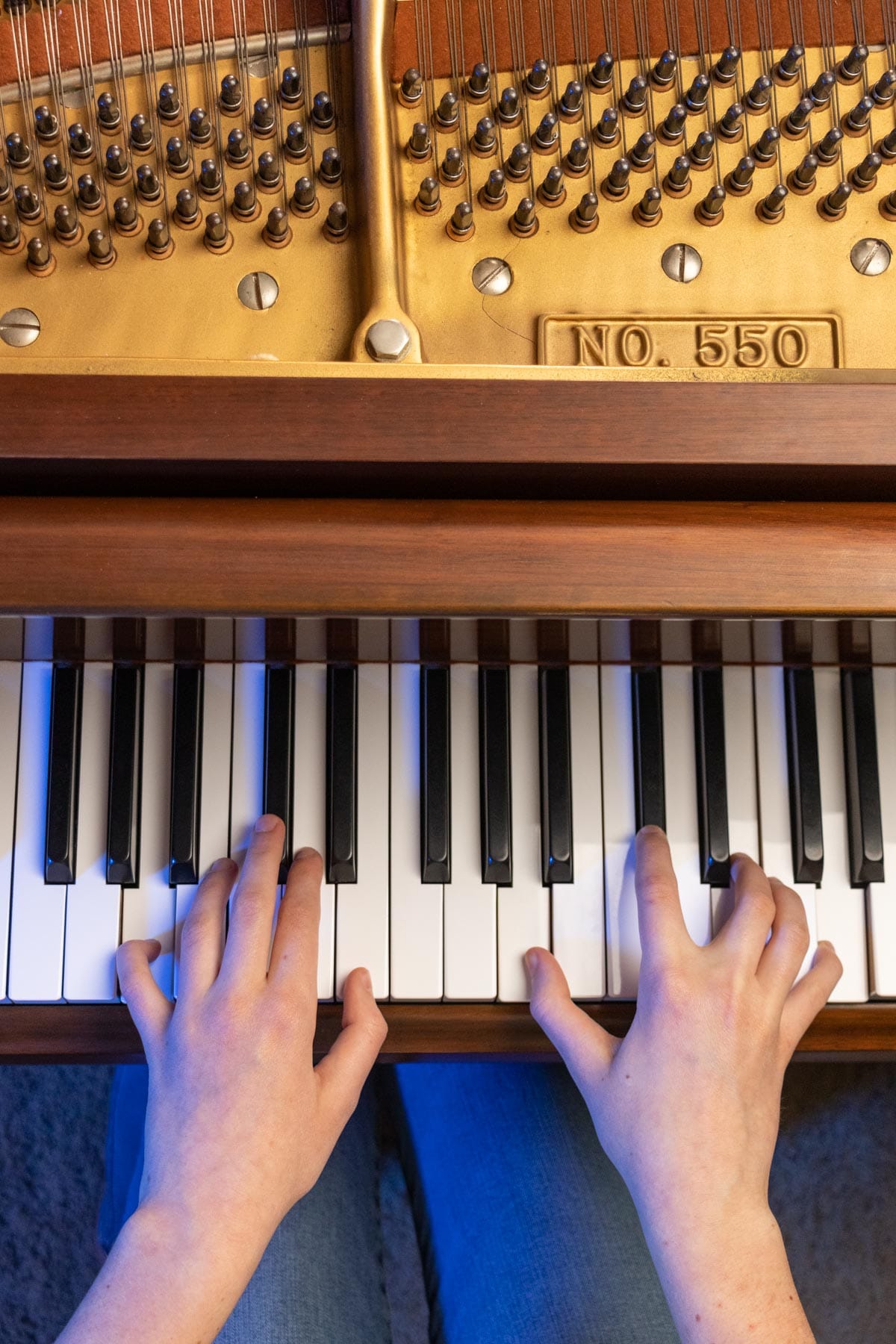 Take a look at the following issues with piano hand posture and see if you've been struggling in any of these areas. If so, that's okay. Implement the tips in this article, and you'll be on your way to perfect hand position!
Flat Fingers
Curled Fingers
Buckled Fingers
Straight Pinky
Sunken Wrists
Peaked Wrists
Tips
Before You Play
Relax. Shake out the tension from your hands and forearms, then let your arms fall by your sides. Do you see the rounded shape your hand naturally forms?
Curve. Pace your hands on your knees and let your fingers curve gently around your kneecaps. Double check your position by pretending you have a ball sitting under your hand. Your fingers should naturally spread apart, and have a lovely curve without feeling tight.
Test it out. Maintain this rounded shape and place your hand on a flat surface. Rest your fingertips on the table, making sure your thumb points straight ahead. Keep your forearm level with your wrist. Pretend that your fingers are the arches of a bridge, and press your fingertips down into the table as though the bridge is bearing a heavy load. Do you feel the strength and control you have in this position?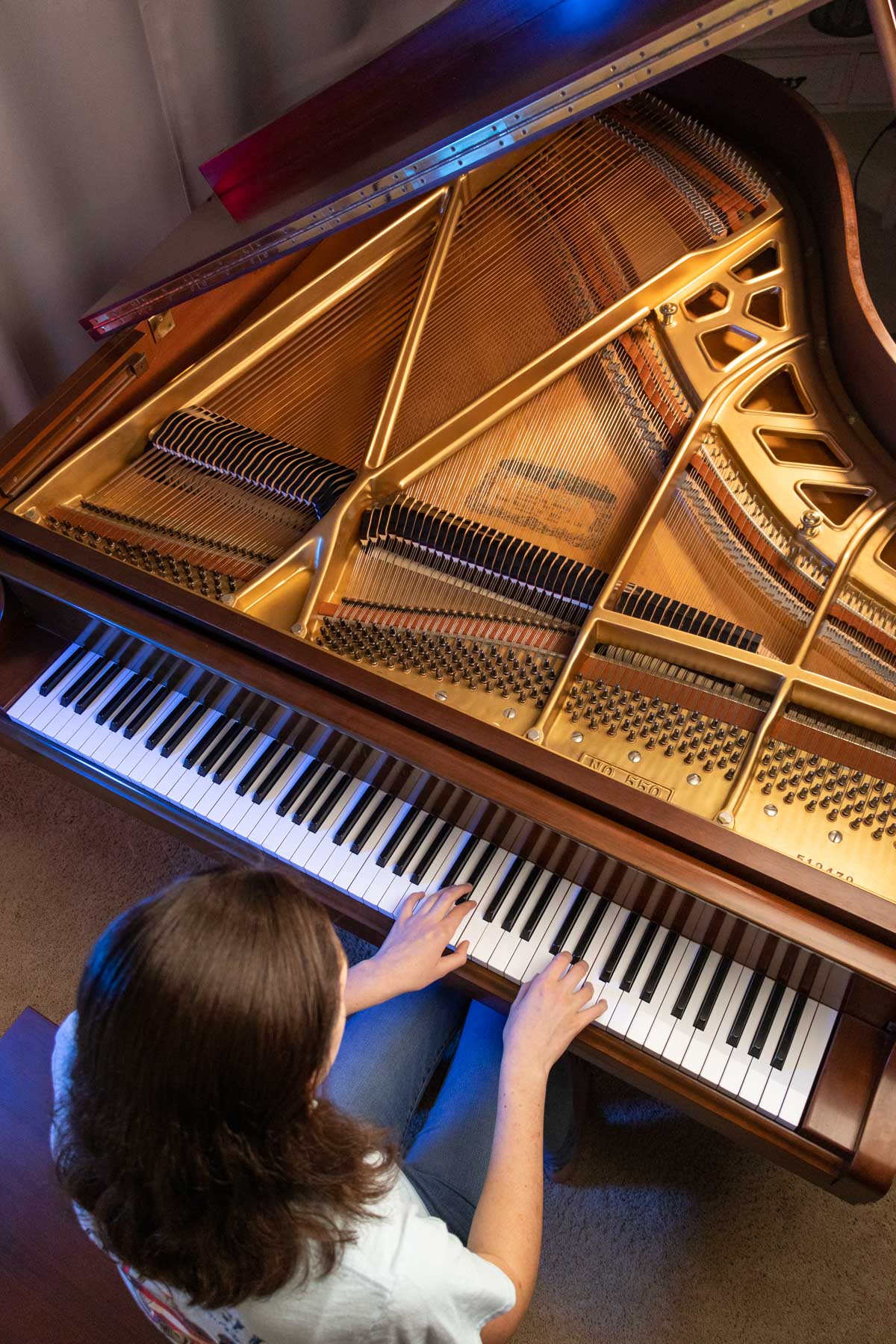 At the Piano
Play with your fingertips. Maintain the rounded shape you have and place your hands on the piano. Make sure to press the keys straight down with your fingertips to keep your fingers curved. Use the side of your thumb to hit the keys.
Watch your forearms. Make sure your forearms are level with your wrists when you play. If they're not, adjust the height of your bench until they're level.
Check your wrists. Are your wrists sinking down below the keys, or are they rising up like mountain peaks? Either of these positions are uncomfortable and will prevent you from maintaining the right hand shape.
Trim your fingernails. If you have long nails, they'll force your fingertip to flatten, making playing with curved fingers very difficult. Keeping your nails short will eliminate this issue.
Bonus
Don't sit too close to the piano. Make sure you're sitting far back enough that you can easily stand up between the bench and the piano. Double check your distance by extending your arms straight in front of you. If your knuckles hit the fallboard, that's where you need to be.
Keep your pinky finger curved. Many students are tempted to play with a ramrod straight pinky finger, but this is not the best form. Keep it curved along with the rest of your fingers for the right position.
Warm up before practicing. Start your practice session with a few scales, chords, and arpeggios to get your fingers moving. Your fingers will feel more relaxed, which will make it easier to play with the right hand position.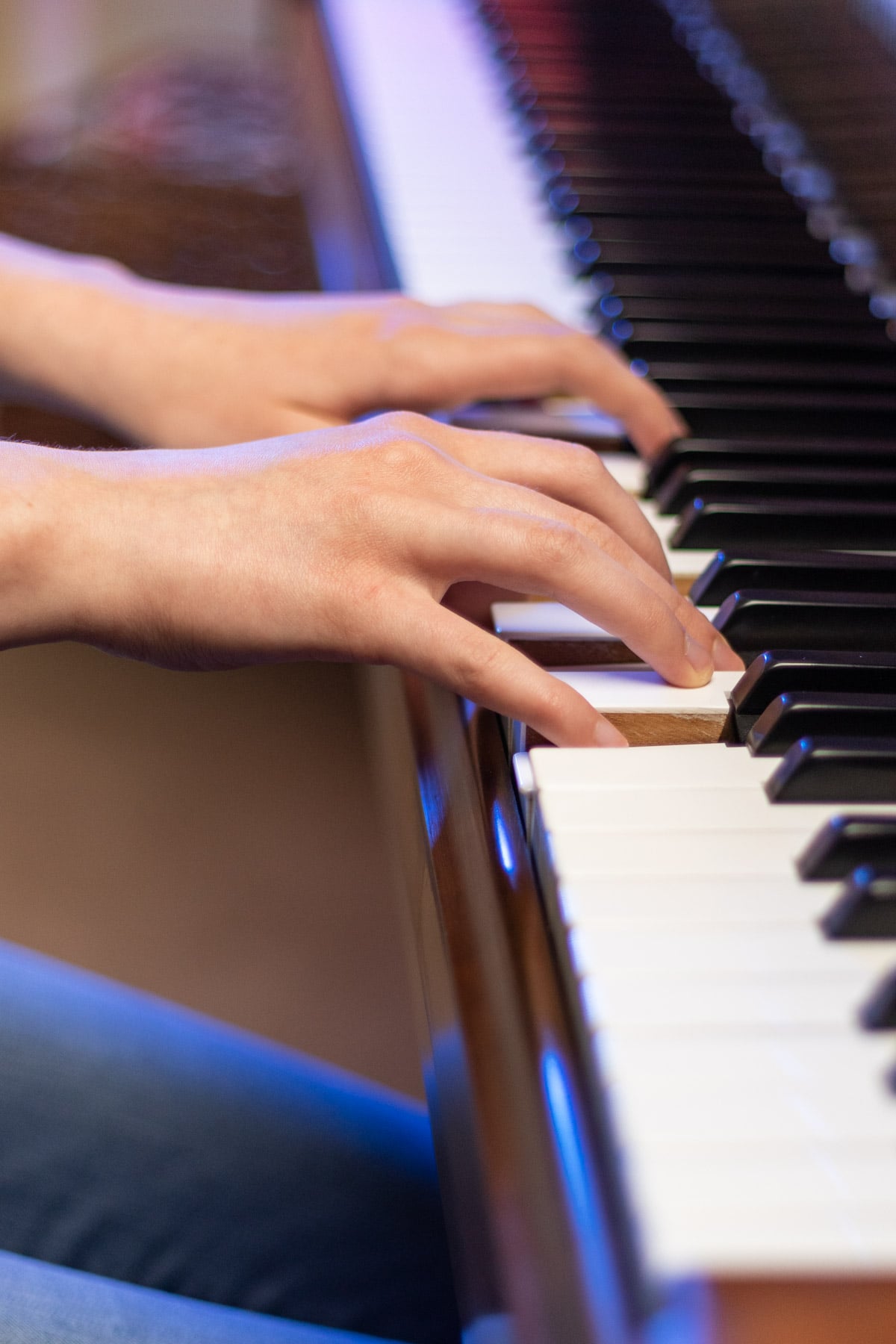 FAQs
How can I improve my piano hand posture?
Relax your hands, then place them on your knees and notice the rounded shape your hands form. Keep this shape and place your hands on the keyboard. Make sure to play the notes with your fingertips to keep the rounded shape, and keep your wrists level with your forearms as you play.
What does it mean to have pianist hands?
Many people misuse this term to mean that someone has large hands or long fingers. Fortunately, you can play the piano very well even if you have small hands or short fingers! Having "piano hands" means that you're holding your hands correctly as you play.
Why do pianists play with curved fingers?
Playing piano with curved fingers reduces tension, allowing the pianist to play complex music more comfortably and at a faster tempo. This hand shape enables the pianist to play with the proper technique and have great flexibility.
How do you keep your fingers curved on the piano?
The most important thing is to relax. If you're tense, your fingers will either curl up or straighten out. Also, make sure your wrists are level with your forearms, and that you're sitting the proper distance from the piano. Make sure to play with your fingertips, and keep your nails trimmed short.
Conclusion
Hopefully, these tips have helped you find the correct hand posture. Holding your hands, wrists, and forearms correctly will make playing the piano much more comfortable, and you'll even notice improvements in your technique, too. Happy piano playing!
Other Piano Articles You'll Enjoy
Follow Emma Blair Piano on Pinterest, Instagram, Facebook, Twitter, and YouTube!
If you enjoyed this post or found it helpful, please leave a comment below. You'll make my day!
Video
Want to watch all these hand position tips instead? Check out this video from the Emma Blair Piano YouTube channel!