You or your child has started to learn piano, and you're really excited about playing this beautiful instrument and playing some amazing songs! However, you might be feeling overwhelmed and wondering what to learn first. Fortunately, these 13 tips for beginner piano players should get you going on the right track for piano success!
If you're a brand new pianist, you'll definitely want to check out the top piano exercises and easy classical songs for beginners-- plus these helpful tips for finding a great piano teacher.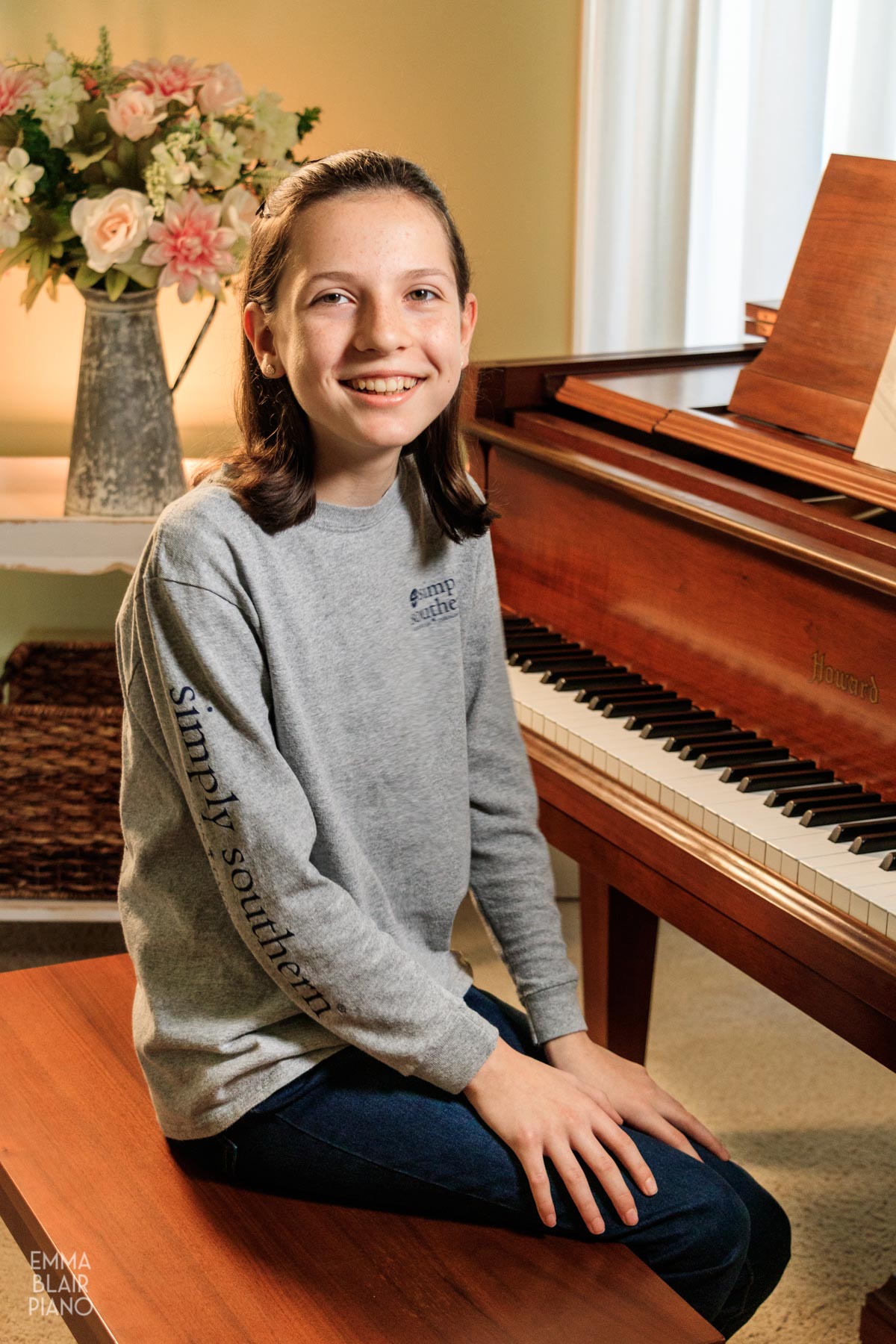 Jump to:
Intro
Learning piano is an exciting journey, but it certainly can be overwhelming when you're first beginning! From choosing method books to searching for an awesome piano teacher, there's a lot to decide upon--not to mention finding time to practice.
If you're a new piano student or are thinking of enrolling your child or grandchild in piano lessons, here are some great tips that should get you off to a solid start.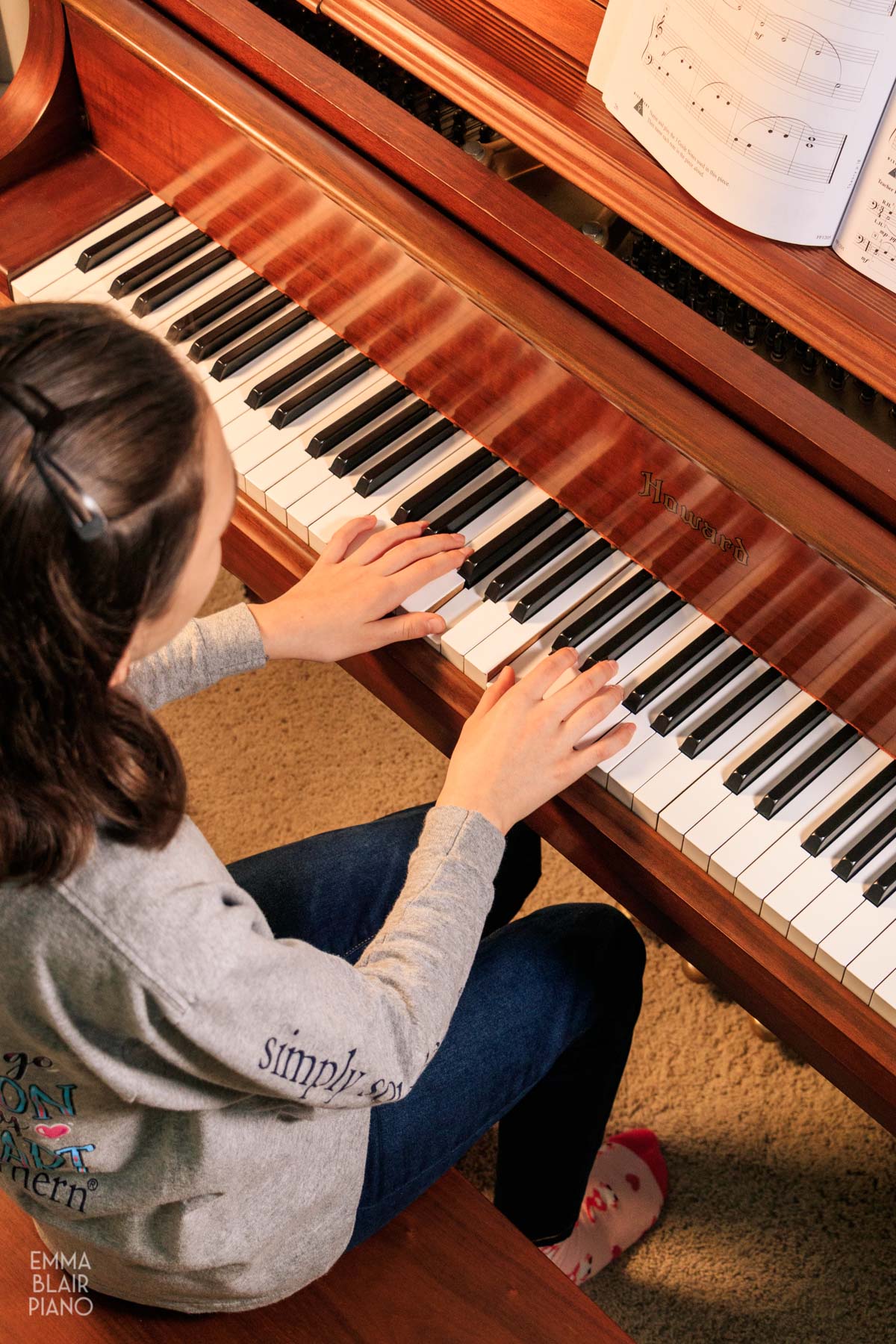 Tips
Music Fundamentals
Practice note reading daily.
You won't be able to play sheet music without learning to identify the notes on the treble and bass clefs (the grand staff). Grab a beginner's method book and download this fun app to help you learn the notes on the staff, and practice it daily. It takes a lot of time and effort to learn how to read music, but it's so worth it!
2. Practice scales, chords, and arpeggios daily.
Not only will scales, chords, and arpeggios warm up your fingers at the start of your practice session, but they will also teach you some basic music theory, strengthen your fingers, and improve your technique.
If you're brand new to piano, start with C major pentascales hands separately, then hands together. Once you've mastered that, start learning the C major scale in parallel motion and contrary motion. Add on triads and arpeggios, then gradually build up to learning a new key signature until you've learned all 12 major and 12 minor keys.
3. Practice sight reading daily.
Sight reading means to read and play a song you've never played before without preparation or practice. Sight reading tests your note reading skills and music theory knowledge, and will help you learn new music faster.
Practice this by working through a dedicated sight reading book, or simply play a song that's a couple levels below your current skill level.
For a fun, interactive way to practice sight reading, try the Royal Conservatory of Music's new online sight reading practice.
4. Practice ear training daily.
Learn to identify intervals and chords by ear. Clap back rhythms and play back simple melodies. Honing your musical ear will help you greatly in your piano studies.
My favorite way to practice ear training is with the Royal Conservatory of Music's online ear training. It comes in all levels from brand new beginner (Prep A and B) to advanced (Level 10), and the exercises make it quick and easy to practice daily!
5. Learn basic music theory.
While you don't need to be a music theory professor, learning a little music theory will help you understand what you're playing and will enrich your learning experience. Playing piano is like learning to speak a new language, while music theory is learning the grammar and mechanics of that language.
Work your way through the Royal Conservatory of Music's Celebrate Theory series starting with the Prep Level, and you'll have a solid understanding of music that will apply to singing or any instrument.
Other books like Harmony by Walter Piston (affiliate) and this amazing free music theory book by University of Puget Sound are fantastic resources for learning music theory on your own!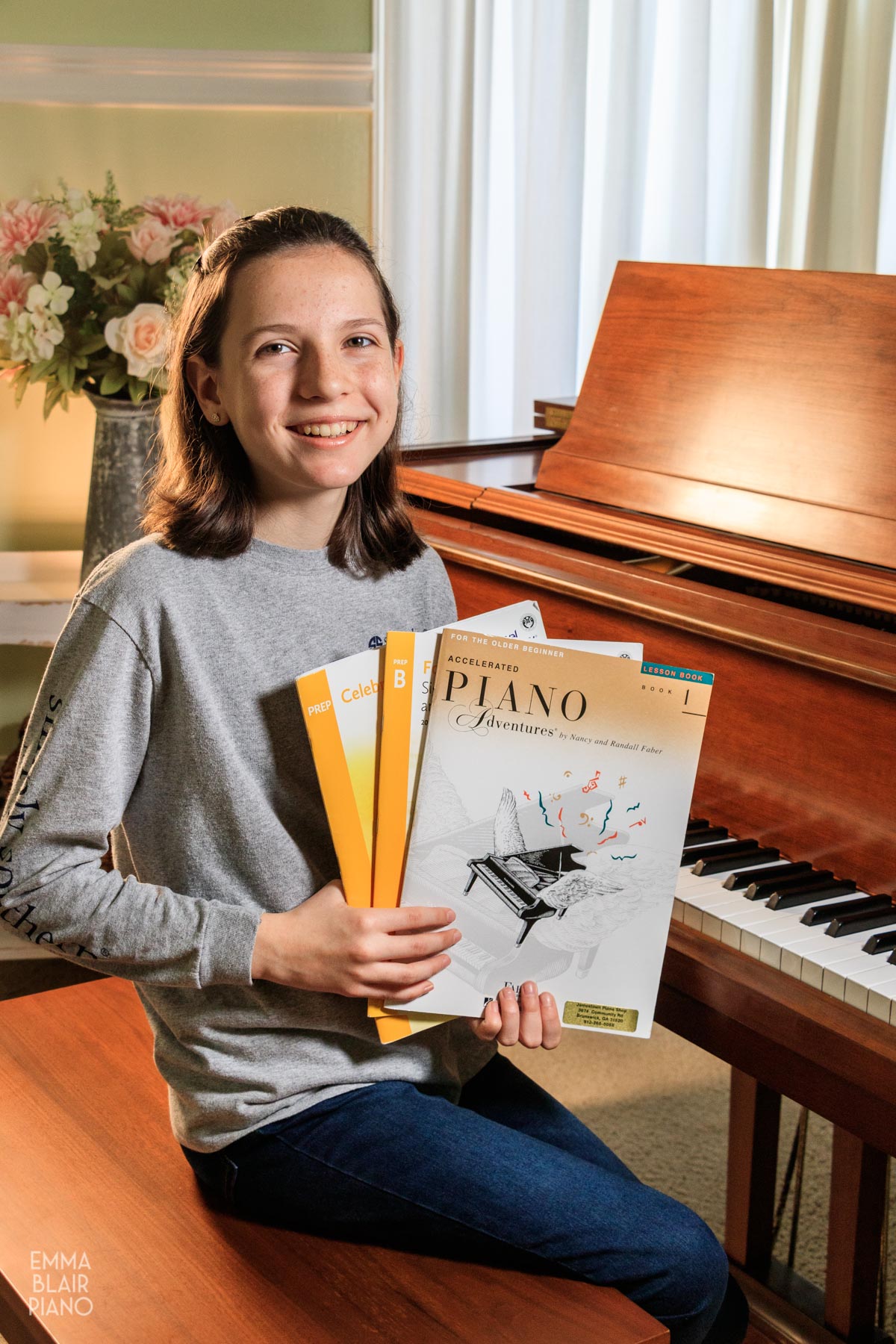 Practice Sessions
6. Sit with good posture.
If you're sitting too close to the piano or slouching a lot, it will make playing uncomfortable and difficult. Make sure that your forearms are level with the keyboard, that you're sitting on the front half of the bench, and that the bench is far back enough that you can easily stand up between the bench and the piano.
For a visual guide, check out these posture tips. If you implement these suggestions, you'll start feeling more comfortable at the piano right away!
7. Learn a song in the following order: notes, fingering, rhythms, expression, then speed.
Make sure you're playing the correct notes (i.e. don't forget accidentals or sharps/flats indicated by the key signature) with the right fingering, then learn the rhythms.
Once you've got these components solidly learned, shape the melody by adding the expressive elements indicated in the music (crescendos/dimuendos, ritardando, staccato, sforzando, etc.). Last of all, work on speeding up the music to the performance tempo.
Think of a song as being a five-legged stool. When any one leg suffers, such as the notes or rhythms, the song quality is affected. If you focus on what's most important first (the notes), then work your way through the other "legs," you'll have a solid, beautifully played piece!
8. Use the right fingering.
Playing a piece with incorrect fingering is awkward, slow, and frustrating. Many times the sheet music will have a recommended fingering printed in the music, but this isn't always the case.
If you're not sure what fingering to use, ask your piano teacher or watch videos of experienced pianists playing the piece and use their fingering. Remember, the best fingering is the one that allows you to play the music with comfort and control.
One way to really improve your fingering is to practice scales, chords, and arpeggios consistently, since they are the basis of music.
9. Implement the 3x3x3 rule.
Practice the right hand three times, the left hand three times, and then play hands together three times. This simple strategy allows you to get lots of practice on the separate parts before putting them together.
10. Focus on accuracy over speed.
No matter how advanced of a pianist you are, it's always more important to play the right notes than to play a song faster. No one is impressed by fast, sloppy playing; they'd much rather hear someone playing accurately at a slower tempo.
There's been many times where I quickly learned a new set of measures and thought it was fine, but later realized that I had issues with the notes and rhythms. It's much harder to "un-learn" the wrong way then it is to learn it correctly the first time! Whenever you're learning a piece, start slow, and gradually increase the speed over time.
11. Play at a consistent tempo.
Many students will cringe when their teacher pulls out a metronome, but fear not--using a metronome is the key to playing at a consistent speed. Many songs will provide a suggested metronome speed for a performance, but always start learning a song at half speed.
If you don't own a traditional metronome, this free app is a wonderful, portable option for your cell phone.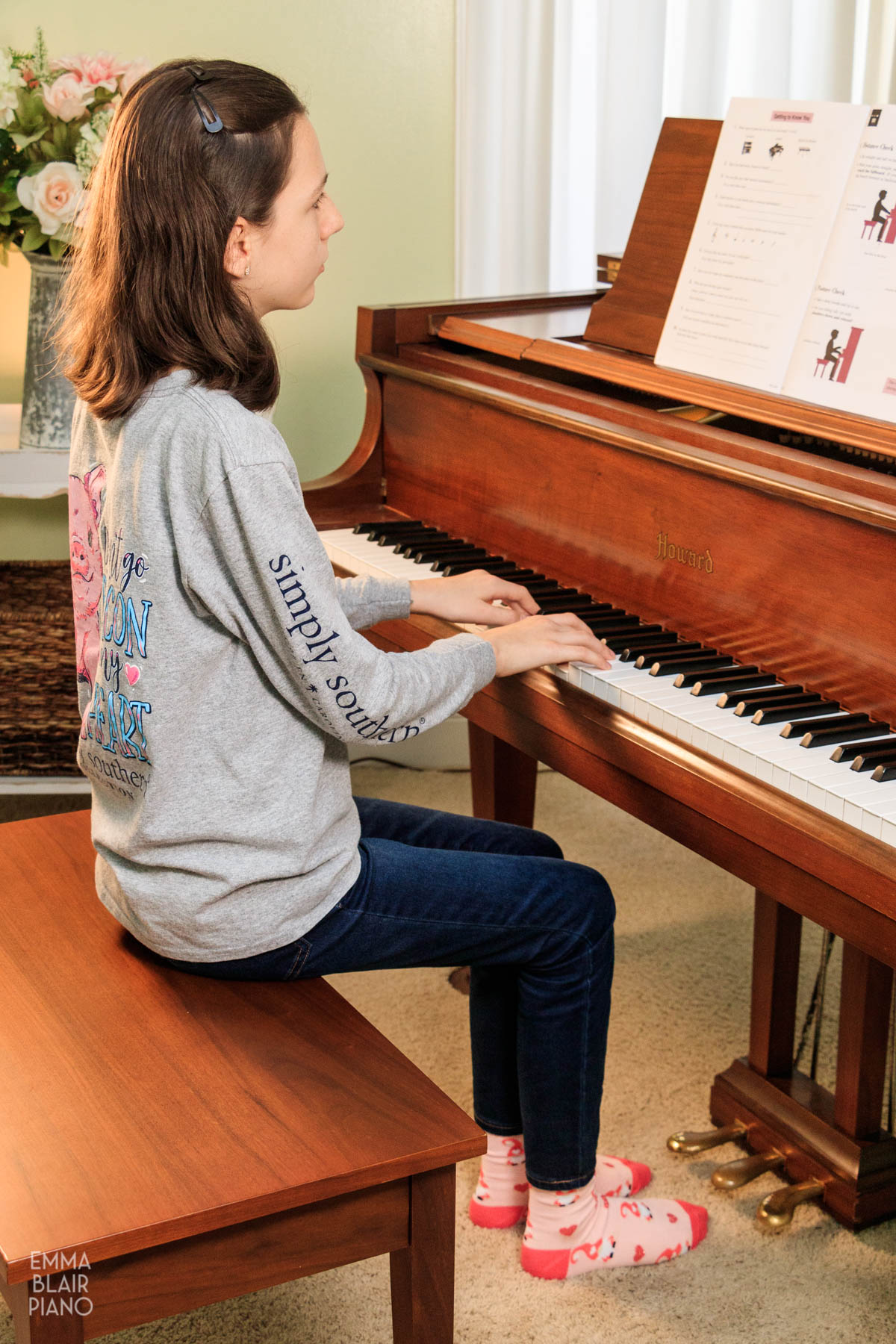 Other Important Tips
11. Find a good piano teacher.
With today's technology, it can be tempting to teach yourself piano by using an app or watching YouTube tutorials. Although there are many excellent teachers online who create valuable instructional material, they should not be a replacement for a live teacher who watches your playing and guides you.
You'll make faster progress, avoid silly mistakes, practice consistently, and enjoy playing more when you're taking weekly private lessons from a good teacher--whether they're in person or online lessons. Although excellent instructors will charge $60+ per hour, there are many wonderful teachers who charge much less. Use these helpful tips to find the best piano teacher for you!
12. Practice consistently.
Make a serious commitment to practice consistently (4-5 days per week). If you're brand new to piano, start with 10-15 minute sessions per day, and work up to 30 minutes per day. If you're pressed for time, do two 10-minute sessions per day, or one 5-minute session and one 10 minute session.
Remember that it's much better to do multiple short sessions each week than doing one or two long ones per week. You'll retain the information better and learn faster that way.
As you become more advanced, you will gradually increase your practice sessions to 1 hour and beyond.
13. Play music you love.
Don't force yourself to play 100% classical music if you think it's boring. Keep a few classical songs in your repertoire to build technique, but add in jazz, hymns, worship music, pop, or other genres that you like to keep your playing interesting. Piano should always be something you enjoy!
There are many supplemental music books in a variety of exciting genres, like the ones from Faber and Faber, which are suited for beginner pianists. Look around at your local music store or online and see what you like.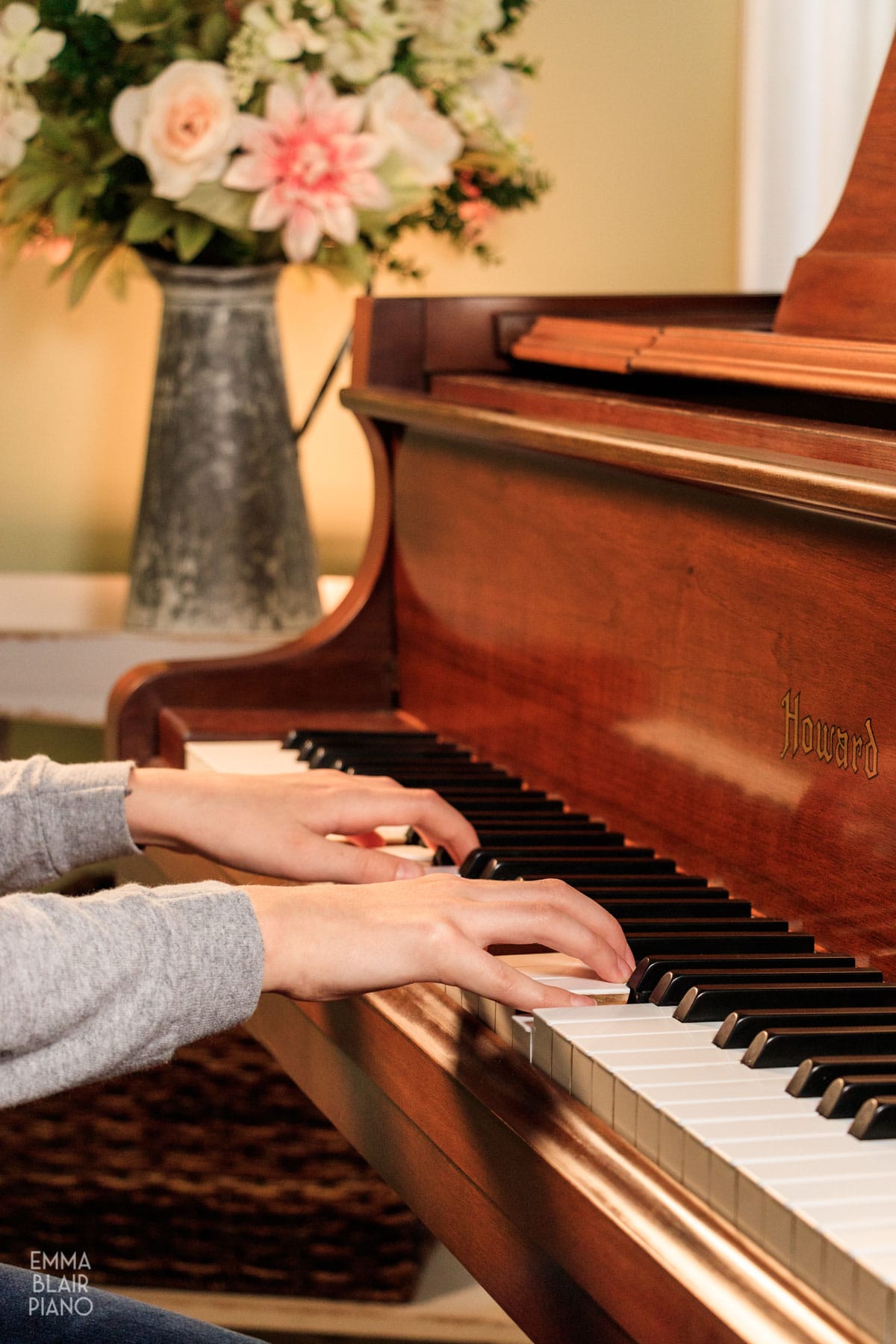 FAQs
What should a beginner piano player learn first?
Start by learning the correct piano posture, then learn finger numbers (1-5) on both hands. Familiarize yourself with keyboard geography, and find all the As, Bs, Cs, etc. on the piano. Learn the C Major pentascale with both hands, then learn the C Major scale in parallel motion. Understand the treble and bass clefs and ¾ and 4/4 time signatures. To learn all these basics quickly and easily, I'd recommend using the Piano Adventures Primer for kids, and the Accelerated Piano Adventures books for older beginners/adults.
What should a beginner pianist do?
Learn the fundamentals, including note reading on the grand staff (treble and bass clefs), music theory, and ear training. Learn basic scales, chords, and arpeggios and simple pieces. Find a great piano teacher for person or online lessons, practice consistently, and have fun!
How long should a beginner piano player practice?
Beginner pianists (especially young children, ages 6 and 7) should start by practicing for 10-15 minutes per day, 4-5 days per week. As you become more advanced, increase the time to 30 minutes per day. Intermediate pianists should expect to practice for 45-60 minutes per day.
Can you teach yourself to play piano?
Yes, you can. There are many excellent YouTube videos and apps that can teach you a lot about piano and get you started, but unfortunately they are no replacement for an expert teacher who can watch you play, guide your learning, and correct your mistakes. If you're serious about improving your playing, you will need to find a great piano teacher that you like.
Conclusion
Now that you know what to focus on during your practice sessions, you should be able to make the most of your practice time. If you implement these tips, you should be seeing consistent improvement over time.
If you're progressing slowly, don't be discouraged! Piano is one of the hardest instruments to learn how to play, and as long as you are consistently getting better, you're making progress.
It's my hope that these beginner piano tips were inspirational and helpful for you. If you have tips for beginning pianists that you'd like to share, please leave a comment below. Both my readers and I would be happy to hear from you!
More Piano Practice Tips
Follow Emma Blair Piano on Pinterest, Instagram, Facebook, Twitter, and YouTube!
If you enjoyed this post or found it helpful, please leave a comment below. You'll make my day!