Are you feeling uncomfortable as you sit at the keyboard? Are your shoulders and arms stiff or sore after your practice session? Are you struggling to master a section of music? Incorrect posture may be the result! Keep reading for ideas on how to improve your posture at the piano bench and make your practice time more comfortable and effective.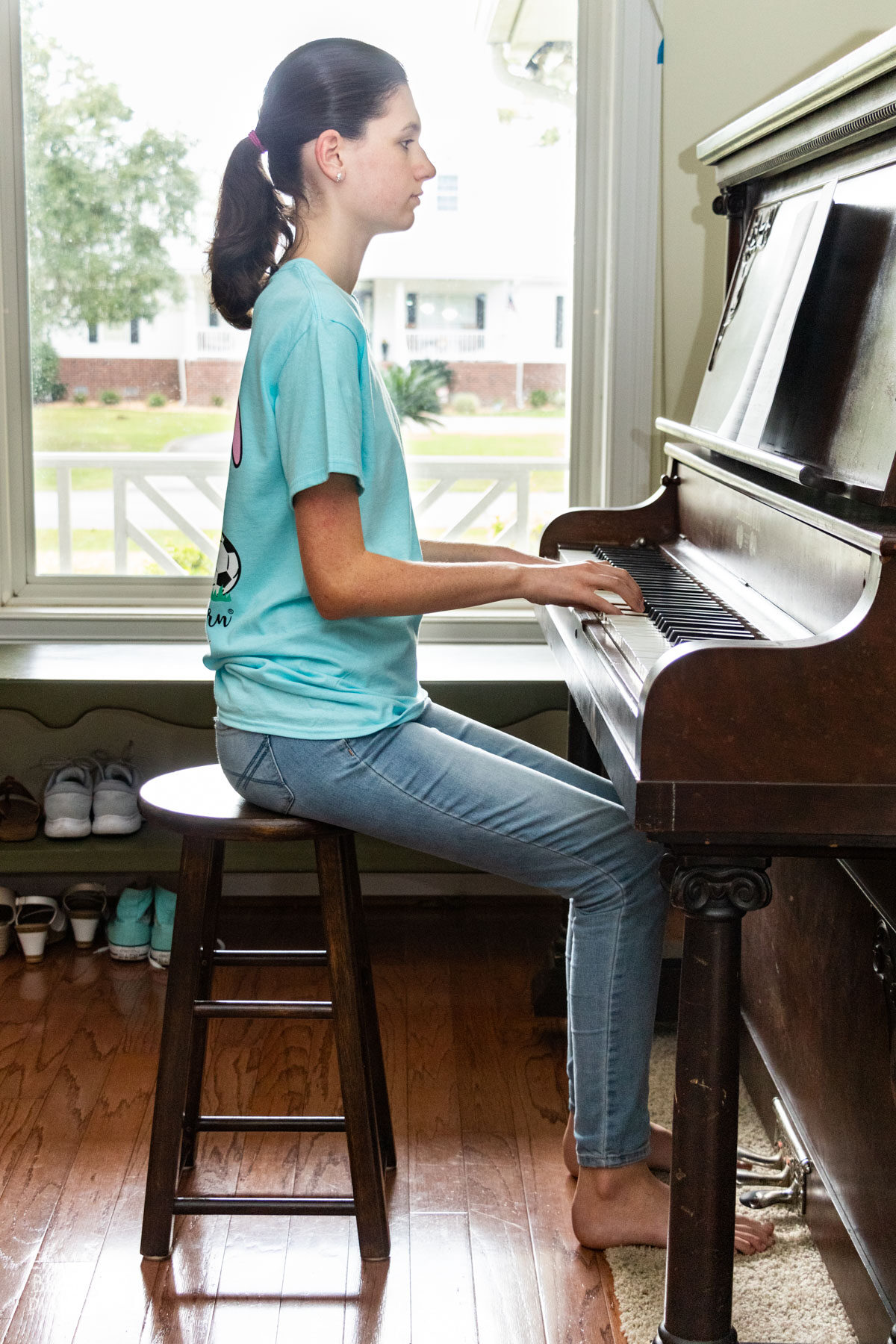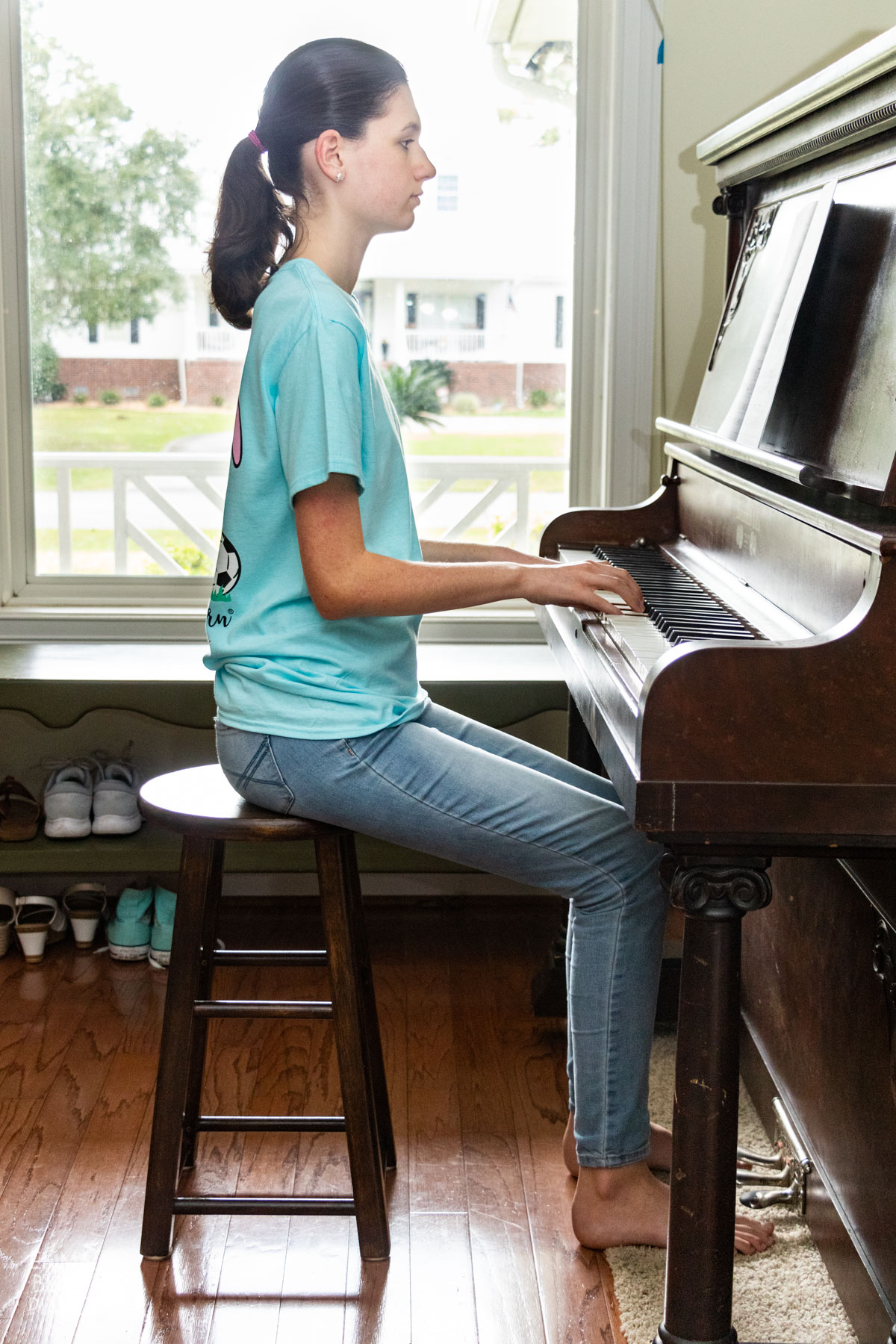 Jump to:
About Posture
What is posture?
Merriam-Webster defines posture as "the position or bearing of the body whether characteristic or assumed for a special purpose." Not surprisingly, there is a certain body position needed to play the piano at one's best.
Why is it so important?
Correct posture gives you more control over the keys, helps you play with a wider dynamic range (volume), reduces the chance of injuries, and makes your piano practice more efficient and enjoyable. It also reduces fatigue while playing more demanding pieces by eliminating tension.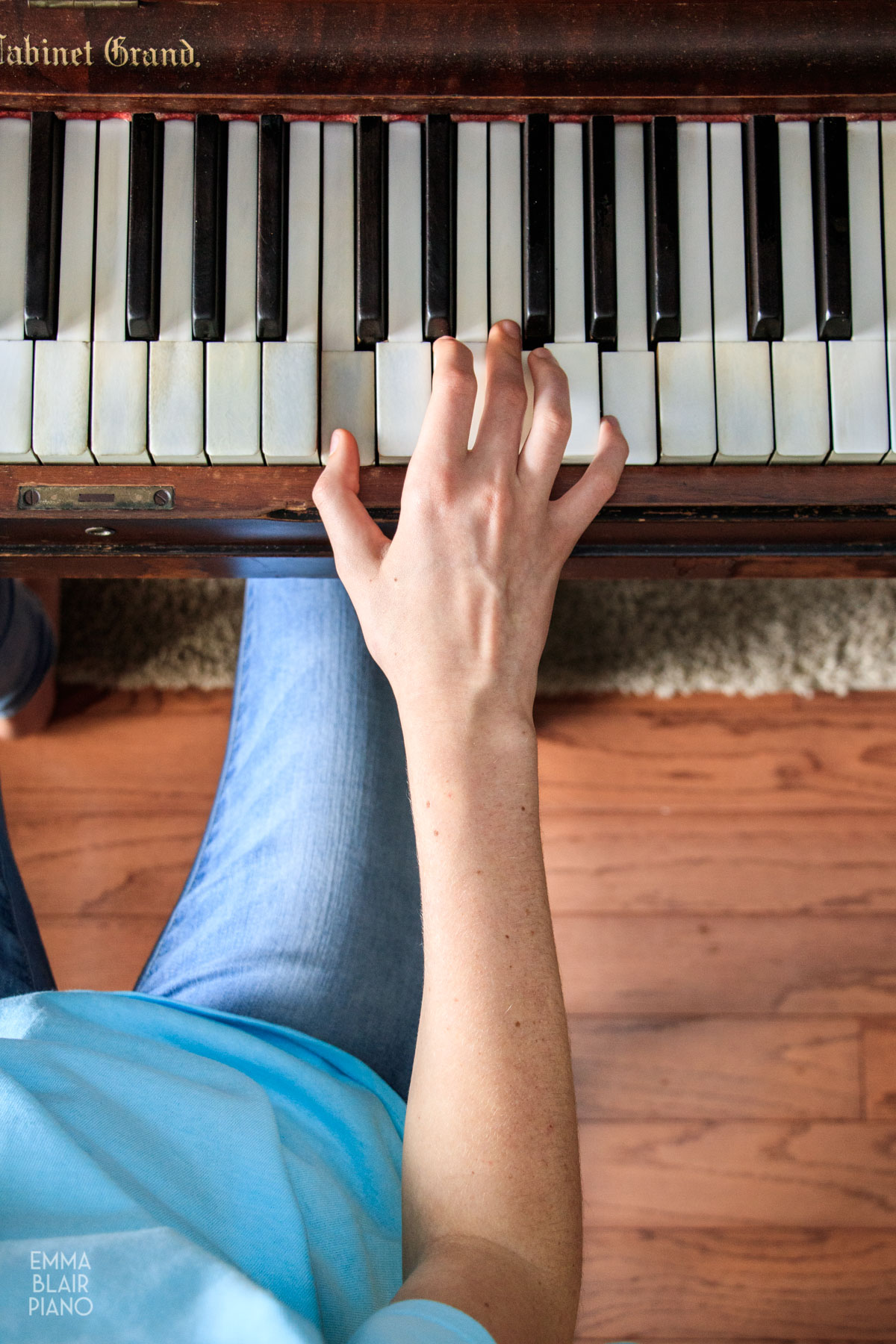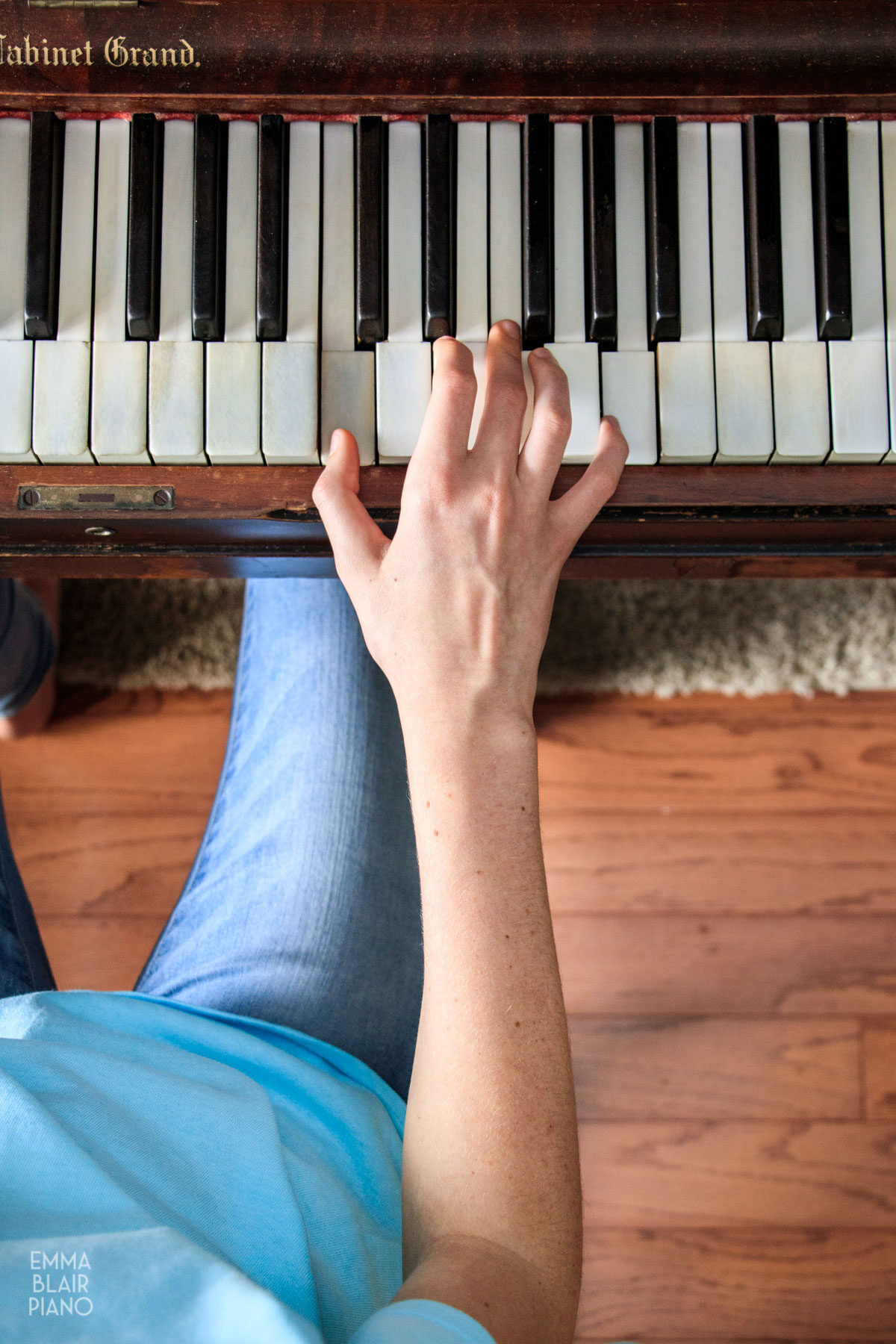 What does correct piano posture look like?
As in dance, there are many components to proper body alignment for piano playing. We'll touch briefly on each body spot and describe the recommended position for each area. Keep in mind that these are general guidelines, and they may not be the most effective position. You should adopt the posture that makes you feel the most comfortable and helps you play at your best.
Hips and Seat: Both hips should be firmly planted on the front half of the piano bench or stool. Your body weight should be seated through the rear. The bench should have a hard or lightly padded seat, and should be far enough away from the piano that you can stand up between the bench and the keyboard.
Feet: Keep your feet about hip width apart, and firmly plant heels and toes on the floor. (Shorter students should use a footstool for their feet if they cannot reach the floor yet.) If using the damper pedal, keep the heel on the floor and use the ball of the foot to depress the pedal.
Knees: The knees should be in line with the ankles (roughly 90 degrees), and slightly under the keyboard.
Head and Neck: Keep your neck relaxed and flexible so you can easily look up at the music rack or down at the keyboard. Your neck should be in line with your spine. Be careful not to tense up your neck when playing.
Chest and Shoulders: The chest should be slightly lifted, and the shoulders down and back. Keeping the shoulders positioned properly helps keep the elbows in line. Don't tense up the shoulders, which causes them to rise up near the ears.
Elbows and Forearms: Your forearms should be parallel to the floor. Keep your elbows closer to your sides.
Wrists: Your wrists should be level with your elbows. Always keep your wrists supple, and make sure not to raise them up high or lower them down too far. Ensure that your pinky finger, wrist, and elbow form a straight line, especially when playing notes closer to middle C.
Hands: The fingers should be curved in a natural, relaxed way, as though they are cupped around your kneecap, and keep the thumbs straight and supple. Do not curl the fingers under or force them outwards, and be sure not to play with straight fingers unless the music requires it.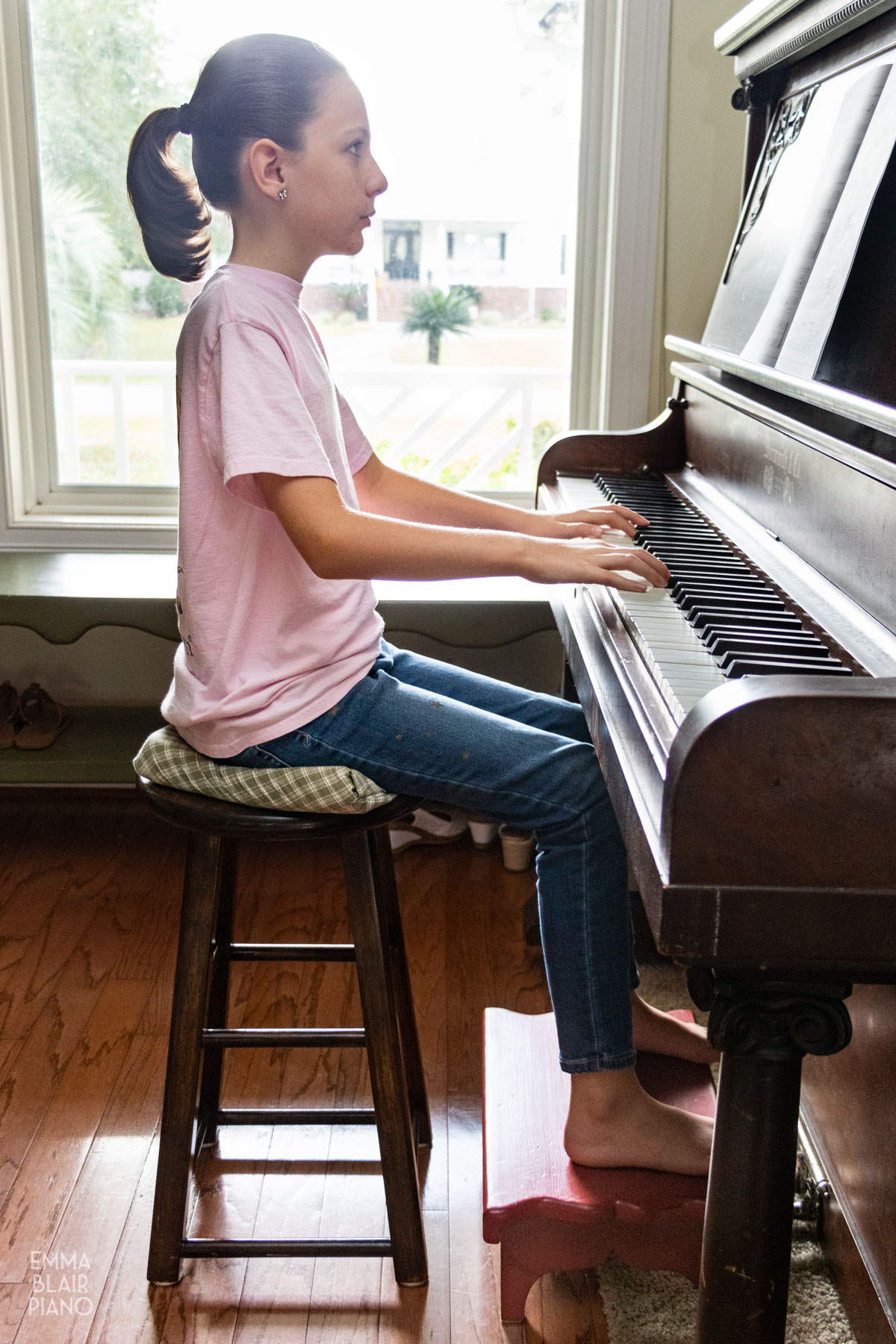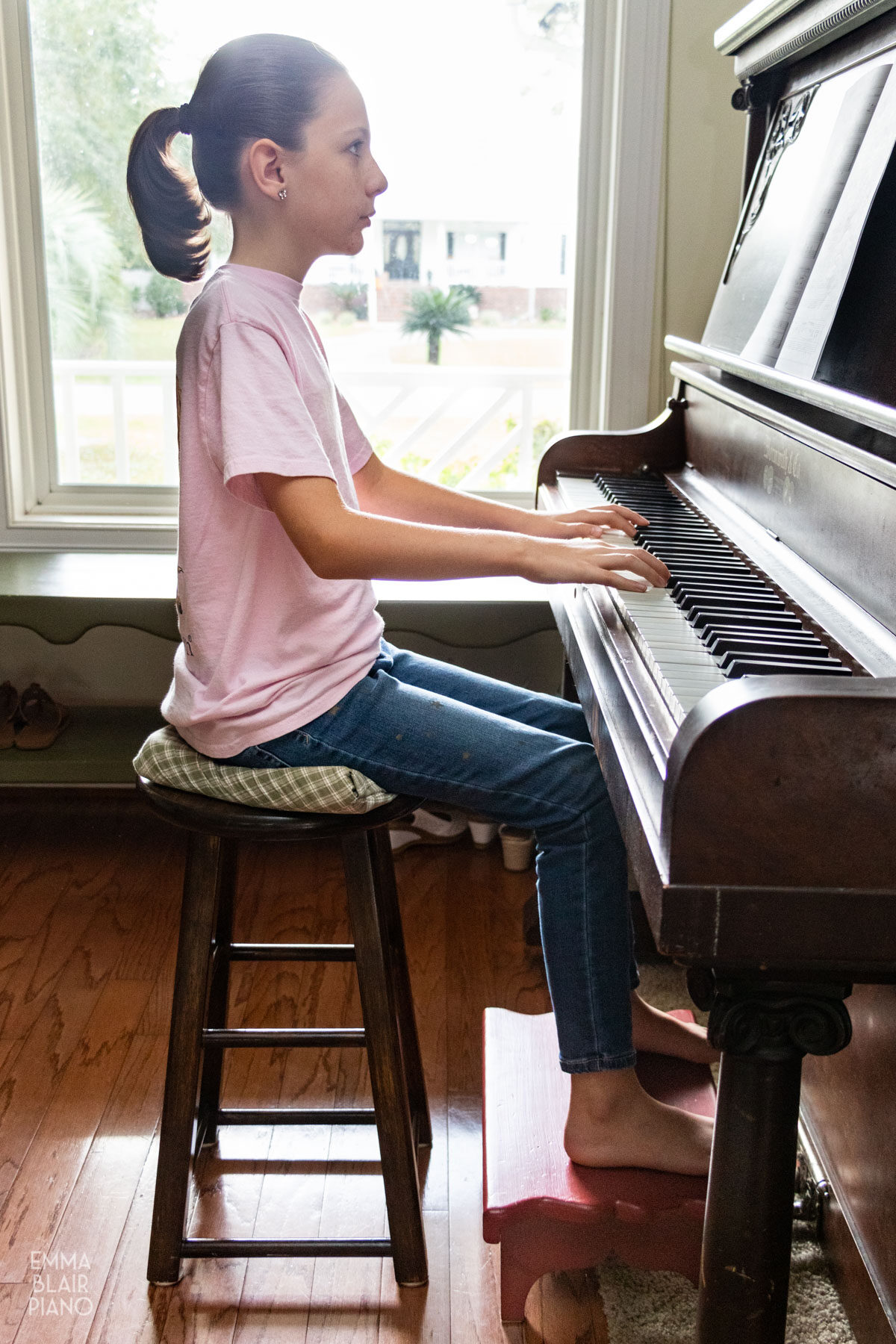 Do's and Dont's
Do have a good attitude. If you're upset, distracted, or grouchy, you probably won't pay close attention to your posture or technique, which can result in forming bad habits. Start playing with a smile!
Do make sure the piano bench is at the correct height. Your forearms should be parallel to the floor, and your wrists should be level with your elbows. Plant your feet flat on the floor or on a footstool. (Here's a visual guide to adjusting your piano bench.)
Do keep your body relaxed, but in position. Don't stiffen your back or make your shoulders rigid; stay flexible while maintaining good posture.
Do breathe. Your muscles need oxygen to work, and holding your breath, especially when playing fast, advanced pieces, can inhibit your performance. Breathe slowly and easily through the nose while playing to aid in relaxation.
Do play with the fingertips to maintain curved fingers. Your fingers should not be buckling or straightened. Keep the pinky slightly curved so just the tip touches the key, and keep the thumbs straight but relaxed.
Do drop the wrist slightly as you press down on a note, then lift it up slightly as you release. This takes some of the stress off of your fingers.
Do use the weight and strength of your arms to press down the keys. This one tip can make a huge difference when playing fast and technically challenging pieces. To feel this in action, let your arms hang loose at your sides, and feel their natural heaviness. Channel that weight and strength into your playing instead of forcing your fingers to do all of the work.
Don't slouch. Sit up tall and straight, like a king or queen. Don't lean forward or backward, as this can create additional tension.
Don't slide around on the bench. When playing notes in upper and lower registers, simply lean to one side or the other to reach the notes.
Don't do dramatic gestures. While this is acceptable for advanced and professional pianists, it's not good for students who are still learning the correct body position. Avoid leaning, dancing, or raising the arms while playing.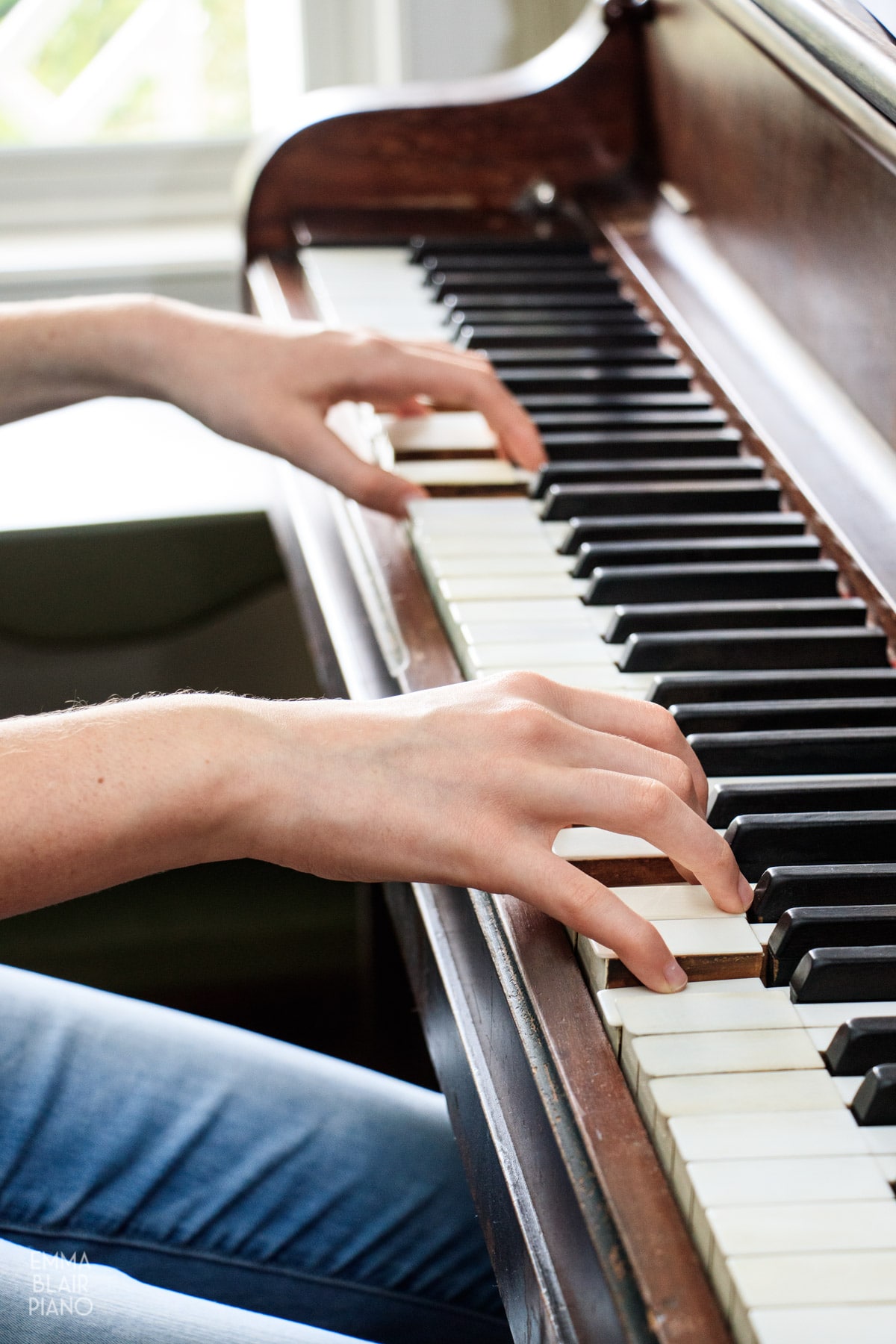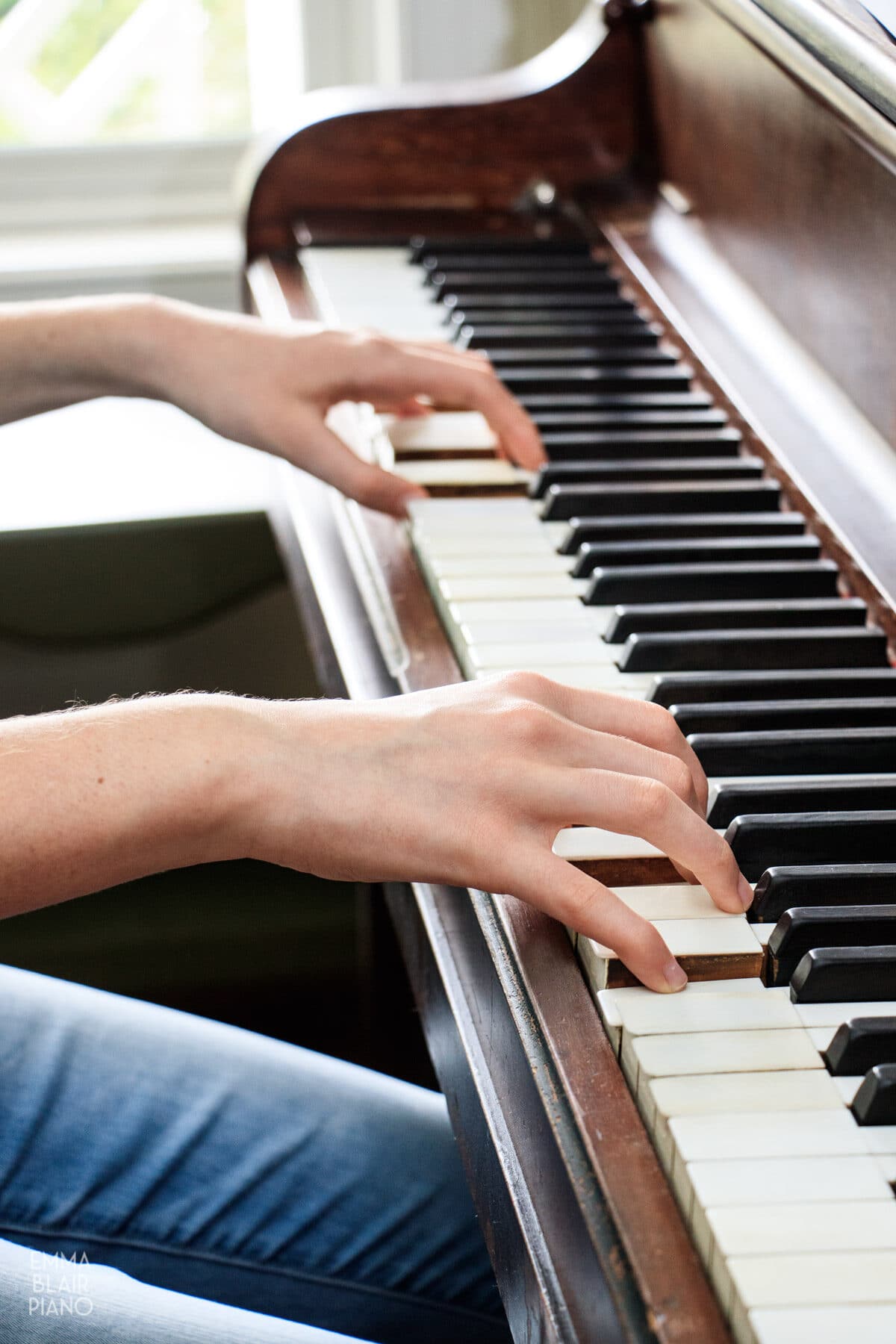 What are your thoughts on posture at the piano? Has improving your posture helped your playing? Let me know in the comments if you have any other tips about correcting posture!
Follow Emma on Pinterest, YouTube, Instagram, and Facebook for more tips on becoming an amazing pianist!
Learning to play the piano? Check out these other great articles!