Are you new to playing the piano? If so, implementing these simple exercises into your practice routine will help you improve your technique, strengthen your fingers, and gain a better understanding of music. Some of these exercises are great for brand new pianists, while some are better suited for those with a couple years of piano training.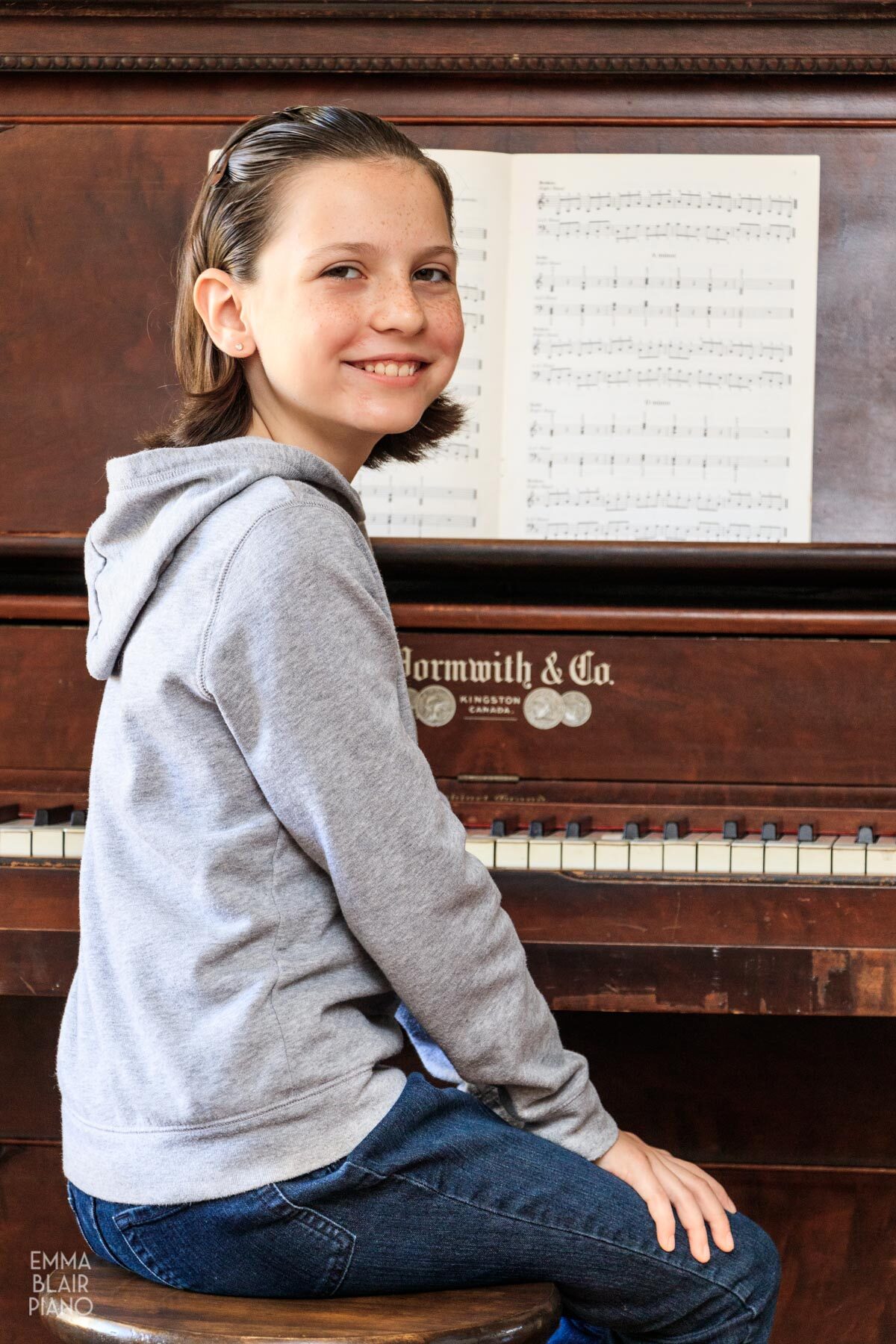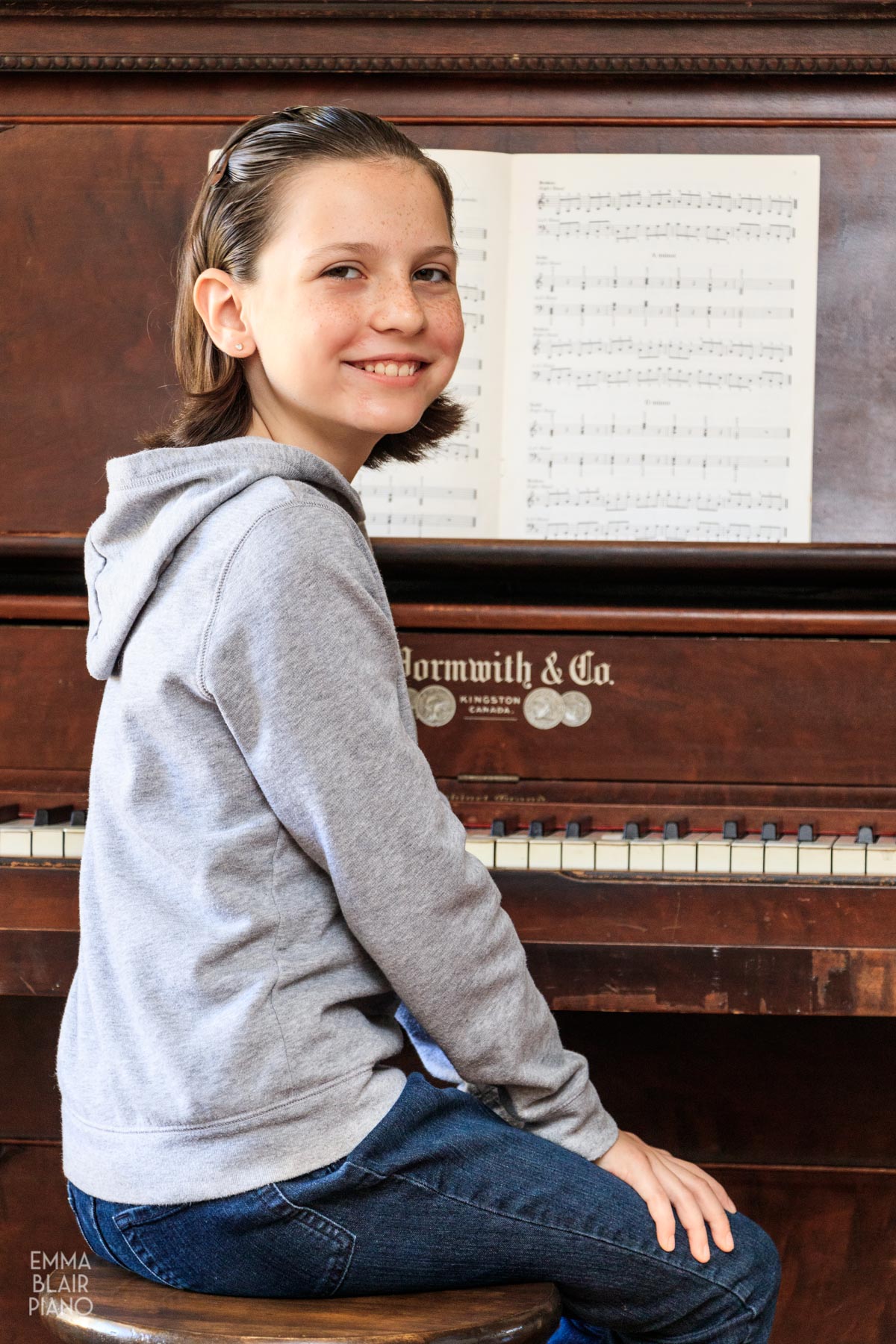 Jump to:
Before You Start
If you're starting to learn piano, it can be overwhelming! Before you start playing, do the following things to help set yourself up for success.
Sit at the piano correctly. Making sure you have proper posture at the piano is vital for making your practicing comfortable and preventing strain on your body.
Warm up. Many of the exercises in this article (pentascales, scales, and triads) are perfect to use as warmups at the beginning of your practice session.
Find a great piano teacher. A teacher will help you overcome mistakes, will teach you new skills at the piano, and will challenge you to improve much more quickly than you can do alone. (Here's what to look for in a great piano teacher.)
Pentascales
If you're a beginning piano student, one of the simplest exercises to start strengthening your fingers is the pentascale. The prefix penta means five, so the word "pentascale" is a scale consisting of only five notes rather than the traditional eight.
To play a C Major pentascale, place your right thumb on middle C. Then, smoothly play the notes C, D, E, F, and G, then reverse the pattern to end up on middle C. You can play a pentascale starting on the tonic note of any major or minor scale.
Here are examples of how to play a pentascale in a few common major keys:
C Major: C D E F G
G Major: G A B C D
D Major: D E F♯ G A
F Major: F A B♭ C D
B♭ Major: B♭ C D E♭ F
E♭ Major: E♭ F G A♭ B♭
This pentascale tutorial will give you a visual demonstration of how to play pentascales in all twelve major keys.
One and Two-Octave Scales
When you're first starting at the piano, it's best to start with one-octave scales. (An octave is an interval of eight notes; for example, from one C to another C on the keyboard.) A one-octave scale will take you from one D to one D or one G to one G.
To play a C major scale, play the following notes:
middle C D E F G A B upper C B A G F E D middle C
Notice how you go up from one C to the one above it, then go back down to middle C again? You travel across one octave here, making it a one-octave scale.
Make sure you're playing the scale with the correct fingering, too! Otherwise, it will be difficult to play smoothly and accurately.
middle C D E F G A B upper C B A G F E D middle C
1 2 3 1 2 3 4 5 4 3 2 1 3 2 1
Scales are one of the best ways to start improving your piano technique, learning the notes and key signatures, and learning to read the notes on the staff. Not sure why scales are so important? Learn why you can't skip this valuable part of your practice time.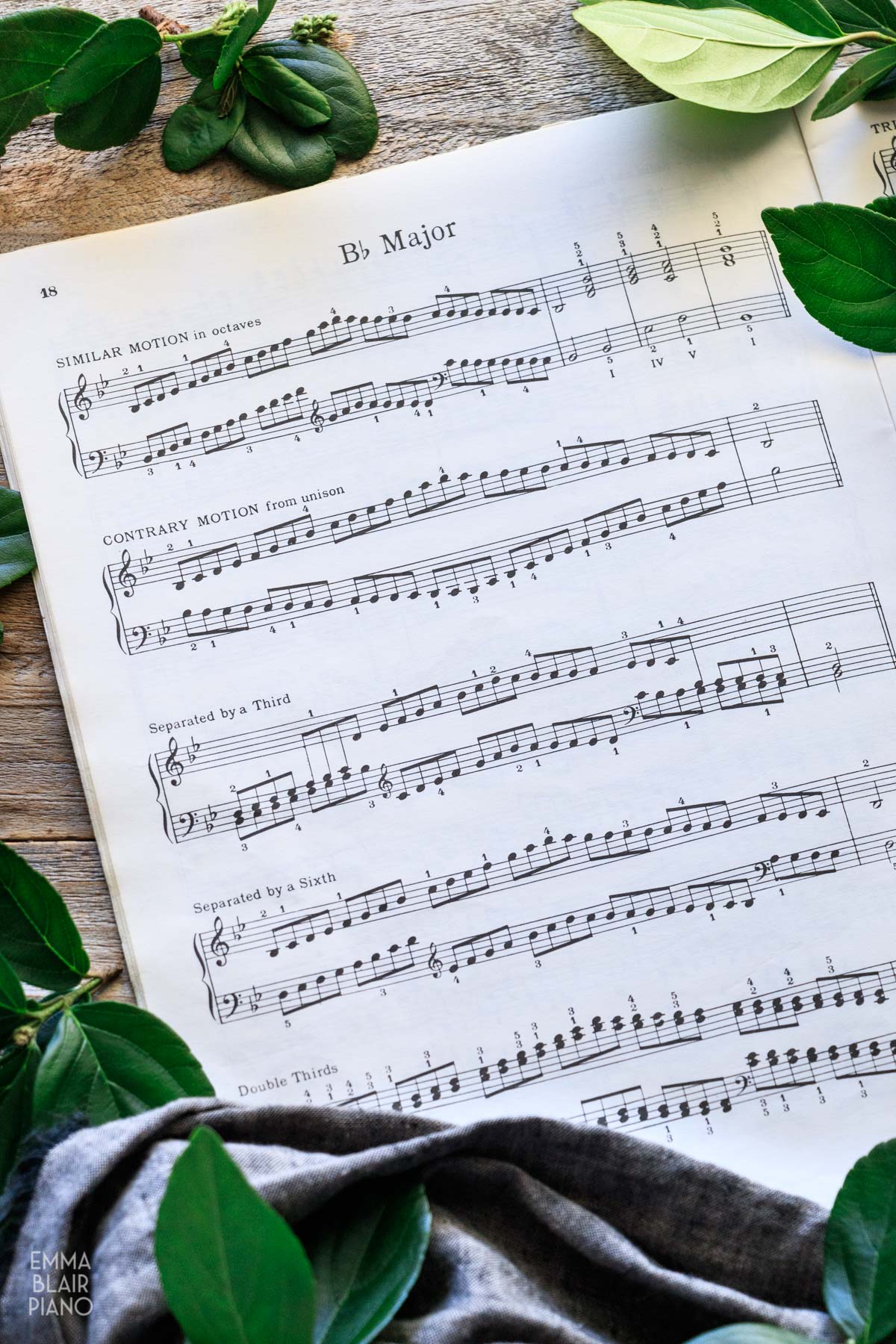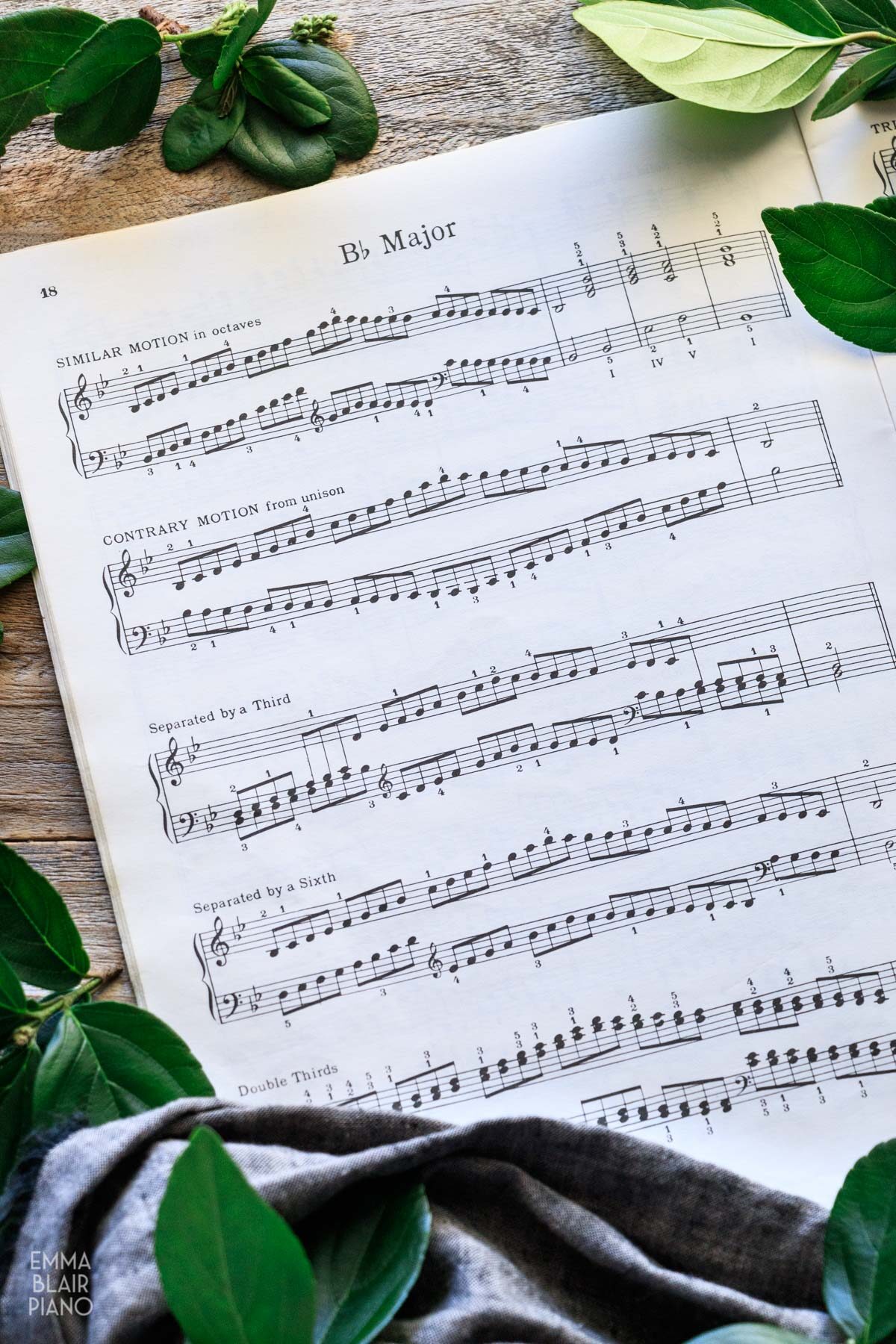 Triads
Triads are a group of three notes in each key, with each note being a third apart. The root position of any triad consists of the tonic, the mediant, and the dominant degrees of any scale. For example, the C major triad in root position is C E G.
The tones in a root position triad can be re-arranged to form three possible variations: the root position, first inversion, and second inversion. For C major, the triads are as follows:
C E G E G C G C E
Root 1st Inversion 2nd inversion
To practice triads, run through them starting with the root, then first inversion, then second inversion. Go back down the keyboard starting with root, second inversion, first inversion, and then root position again. Triads should be played solid (all three notes at once) and broken (each note played individually).
Be sure to purchase a good-quality scale book that spells out all the major and minor scales with their triads, as it will greatly assist you in learning the key signatures, notes, and fingering.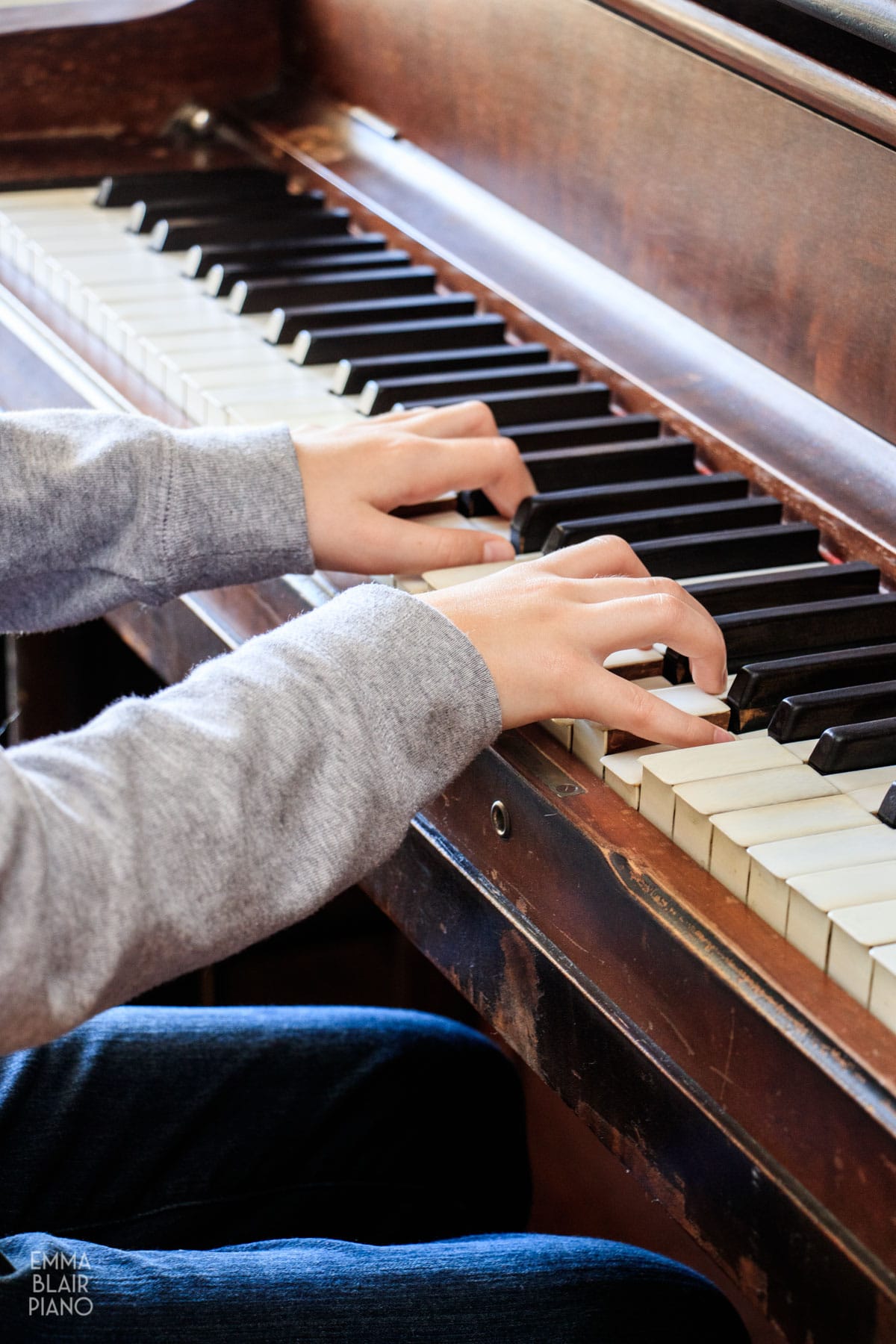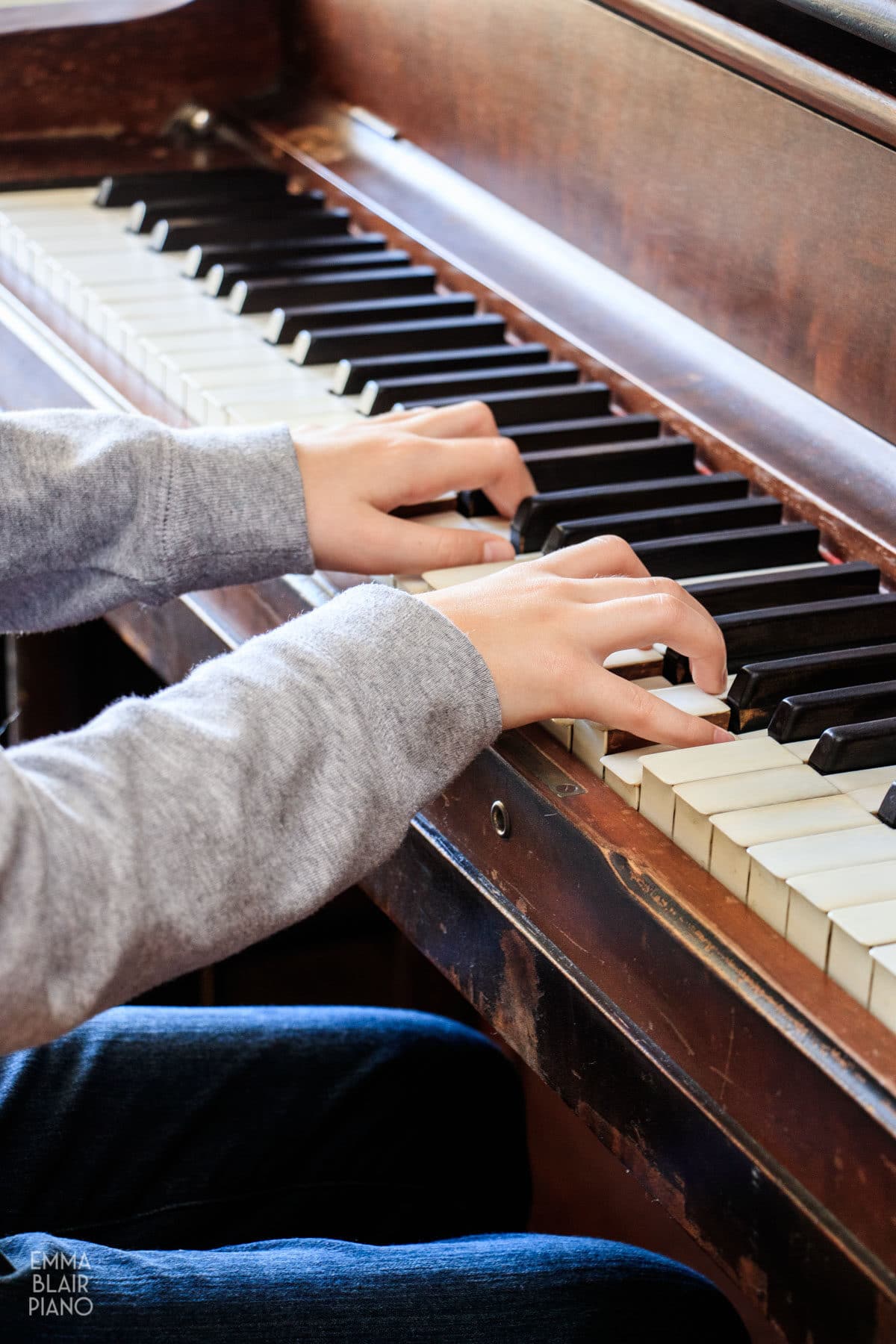 Legato & Staccato
Once you've learned scales and triads, play them with different touches. This means you can play them smoothly (legato) or detached (staccato). If you're reading notes on a staff, staccato notes have a small dot above or below the note. Legato notes don't have any special markings; it's assumed that you play all notes as legato unless the music tells you otherwise.
You should primarily play your scales, chords, and arpeggios legato, as it will help you learn to play smoothly and fluidly. However, playing staccato will force you to play close attention to your timing and will strengthen your fingers quite a bit.
Hanon and Czerny
Carl Czerny (1791-1857) and Charles-Louis Hanon (1819-1900) were famous composers and piano teachers who created a vast collection of finger exercises, etudes, and short compositions to help students improve their technique and finger strength. Their works have grown in popularity worldwide, and are now a pillar of piano pedagogy in many classical music programs. However, if you're brand new to piano, I recommend getting comfortable with scales, triads, and reading basic notes on the staff before starting Hanon or Czerny, as their exercises are suited for those who have a couple years of piano training.
I personally enjoy playing Hanon exercises right after my warmup, as they're a fantastic way to strengthen one's fingers. Download these free PDF versions of the first 20 Hanon exercises and start practicing them today! Print copies of Czerny's Art of Finger Dexterity and Hanon's The Virtuoso Pianist are available on Amazon.
If you're interested in playing etudes (also known as studies), Royal Conservatory of Music has wonderful collections that are organized by grade level. Start with Level 1 Etudes if you've had a couple years of piano under your belt.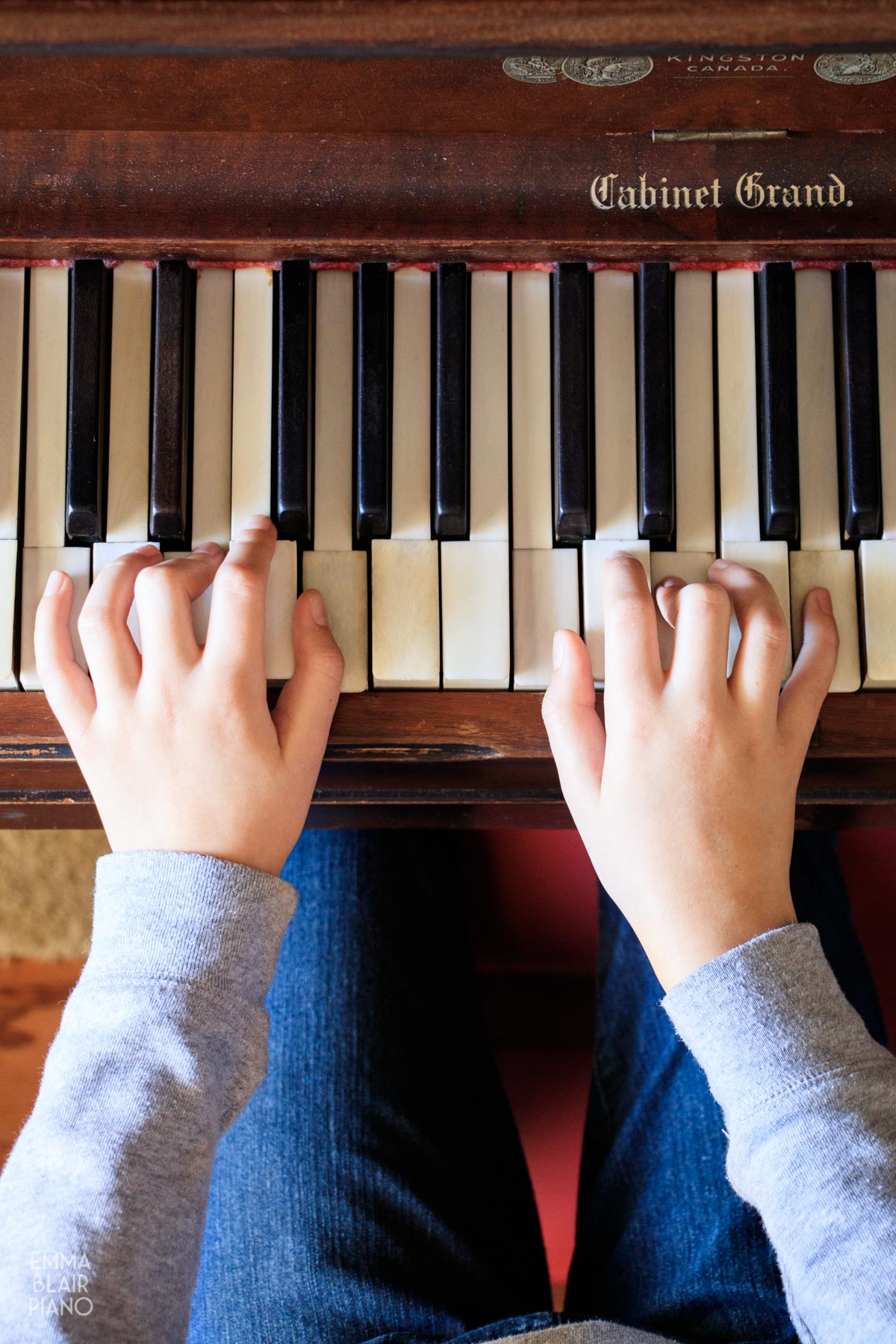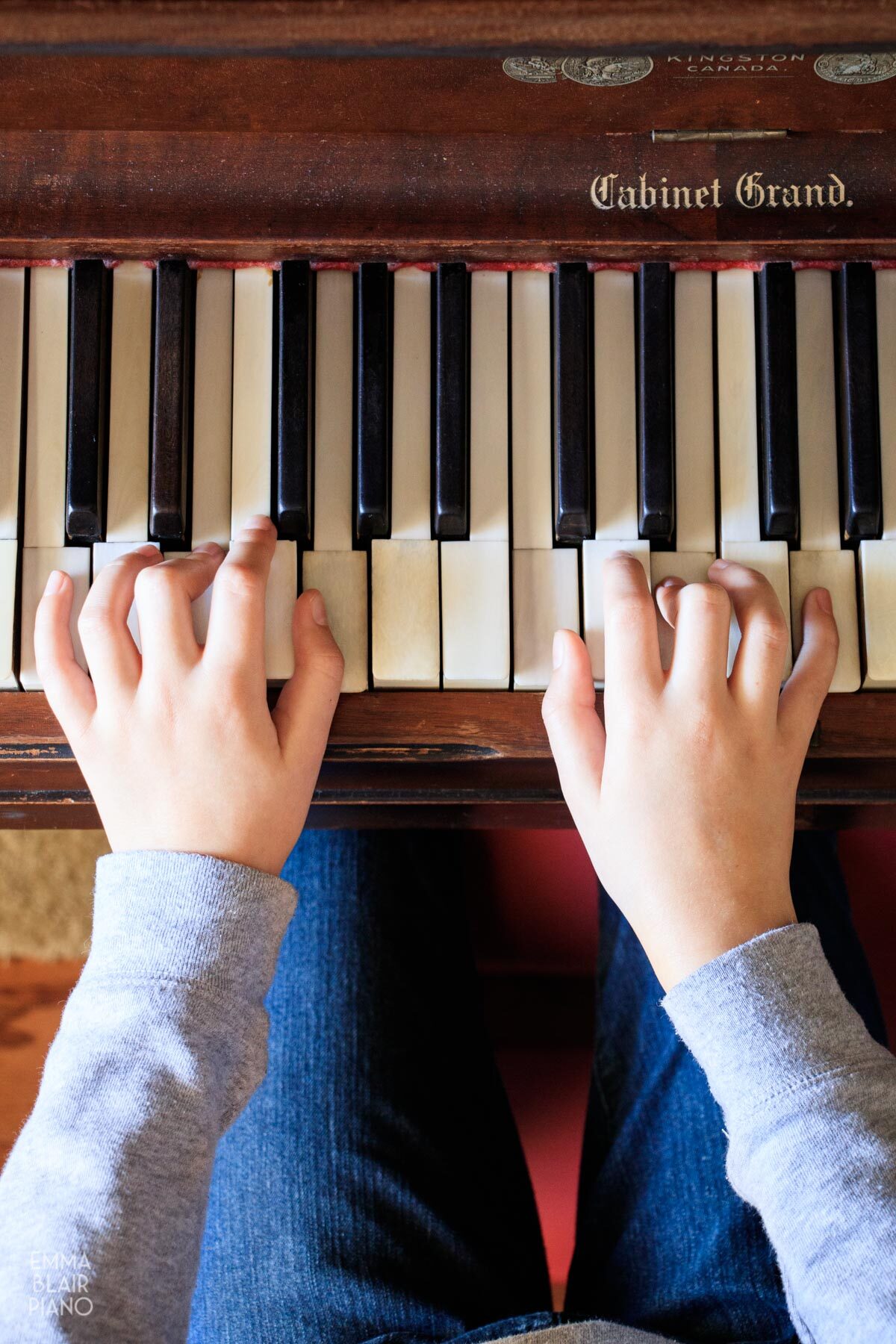 Conclusion
If you're a beginning piano player, make sure to incorporate these simple exercises into your practice routine. Let me know in the comments how these exercises have helped you become a better pianist.
If you're an experienced player, tell me your favorite exercises to improve finger dexterity and strength, especially for beginners. I'd love to hear your suggestions!
Follow Emma on Pinterest, YouTube, Instagram, and Facebook for more tips on becoming an amazing pianist!
Want to become better at piano? Read these articles for some great tips.
Video